June Education Event To Help Precision Professionals Find Their Way in the Business of Precision Agriculture
Service providers are the essential link between precision agriculture products and practices and the farmers who are increasingly relying on technology to increase efficiency, profitability, and environmental stewardship. How the business side of a precision program is managed is often a determining factor in its ultimate success or failure.
For its growing importance, precision program managers are quite often technically savvy individuals with a passion for integrating technology but with less experience in the essential business and people management skills that departmental leadership requires. And it's a role that has not been particularly well defined.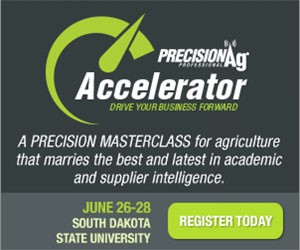 This is compounded by the rapidly evolving precision agriculture market, which adds new research, products, and capabilities every year and challenges precision ag managers to stay informed.
"Retailers have always played an important role with farmers in their use of precision farming," Dr. Bruce Erickson, Agronomy Education Distance and Outreach Director with Purdue University, says. "But with the complexity of today's market — new tools, new and changing players, and the growing importance of data — the approach has to be tailored and adaptive. Without a clear road map, retailers must rely on their knowledge and intuition, avoid the fog of overwhelming details, and think less about selling the characteristics of a product or service and more about the various ways they can add value to the farmer's business."
MORE BY GILLTOTTEN
Services must also provide value to the service provider's business in the form of higher profits, increasing customers, and improved customer loyalty through effective, sustainable programs.
Part of the challenge can come from a lack of full commitment to the precision program within the organization. Sometimes, the service provider doesn't have the management skillset.
"Very few retailers, as a whole, know how to engage their precision agriculture business within the overall structure of their core business, and then how to manage that business moving forward," David Swain, who spent more than two decades working in both the ag retail and precision technology manufacturing sides of the industry, says.
Services on the Rise
Getting the business side of precision agriculture program management correct is critical, as service providers have been reporting that precision service business has been robust. Sister publication CropLife® magazine, in conjunction with Purdue University, completed the 18th Precision Agriculture Adoption Survey last June and found significant increases in most services.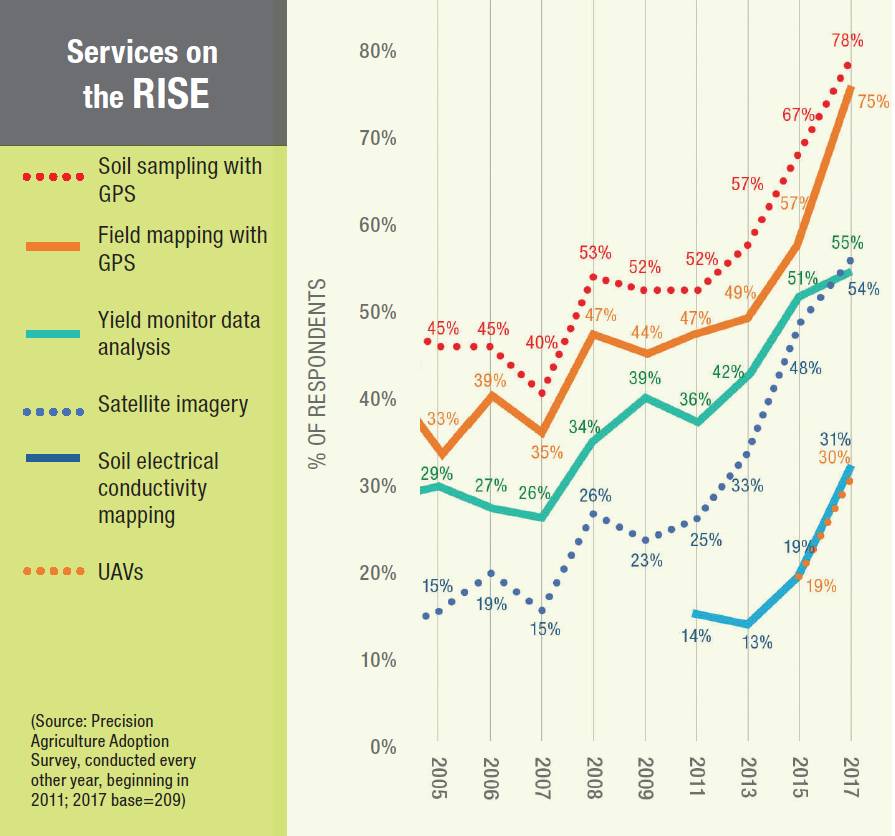 The table is set for increasing growth, but how do retailers know if they're running at full power?
The truth is, while there are some clear market leaders in the precision space, there are no definitive voices or ironclad approaches to success with a precision program — and no definitively right or wrong answers on how a program should run.
In preparation for the upcoming PrecisionAg® Professional Accelerator professional development event this summer, South Dakota State University (SDSU) is conducting research on how retailers are approaching their programs — in particular, pricing model options, as well as approaches to value expression to farmer-customers.
"No one approach is being utilized by all organizations," Nicholas Uilk, Precision Agriculture Instructor at SDSU, says. "But we hope to learn more about what service providers are finding success with, what their biggest challenges are, and what they are trying to do better."
Everything learned through the survey will be used to create the instructional materials for the PrecisionAg Professional Accelerator event.
More On Accelerator
"We've heard service providers and precision managers talk about their challenges for a number of years, which is why we've set out to build the PrecisionAg Professional Accelerator," Paul Schrimpf, manager of the inaugural event, says. "We know there are many approaches to precision programs, and our goal is not to provide a definitive path forward. Our goal is to put forth a wide range of ideas and approaches for attendees to examine and consider.
"Our hope," he continues, "is that every attendee can bring back a handful of valuable ideas that ultimately help them take their precision programs to the next level."
Case studies of stable and growing precision programs will be presented for discussion and consideration. Expert faculty from SDSU and beyond will be on hand to enhance the learning.