Topcon Precision Agriculture Announces New Receiver/Steering Controller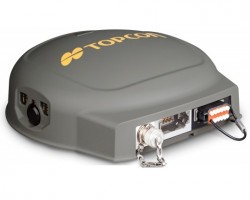 Topcon Precision Agriculture (TPA) announces the AGI-4, the industry's first completely integrated steering solution that can simply and easily interface with many manufacturer's "virtual terminals" (ISO11783).
To be released at AgConnect Expo in Kansas City, MO (January 29-31), the AGI-4 features multiple-constellation GNSS satellite reception, state-of-the-art inertial sensors for full terrain compensation, plus Topcon's industry-leading line acquisition and on-line steering functionality.
"The AGI-4 is an industry first in all-in-one integrated receiver/steering controllers," said Kevin Cobb, TPA director of product management.
MORE BY MATT HOPKINS
Digital Farming
June 24, 2019
Market Intelligence
September 10, 2018
Farm to Fork
July 2, 2018
The AGI-4's modular design includes "antenna, multi-constellation GNSS satellite receiver and steering controller, with optional high-accuracy inertial sensors snap-in module offering unmatched upgradeability," Cobb said.
AGI-4 comes standard with WAAS and EGNOS steering functionality and an RTK communication module is also an available option.  "AGI-4 is easily upgradeable to 2cm accuracy with RTK radio options," Cobb said.
NTRIP capability allows a user to tap into existing reference networks via mobile phone connection (dependent on local availability) and uses existing data plans and infrastructure to minimize costs.
"AGI-4 features include industry-leading ISO11783 compatibility with virtual terminals. This allows the addition of Topcon's industry-leading auto-steering performance to virtually any steer-ready vehicle via a single component installation," said Cobb. "Being compatible with the displays of many other manufacturers lets the AGI-4 steering controller give true Drop-in and Drive convenience."