Topcon Launching New X35 In-Cab Display Console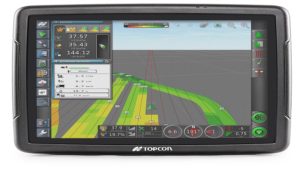 Topcon Agriculture introduces the new X35 — the next generation in the X-Family of touchscreen displays with advanced functionality.
Designed as a modular solution, the 12.1 inch console runs Topcon Horizon software, providing icon-based and user-definable views for a variety of farm-operating functions and designed to allow for easy upgrades depending on the operator's needs.
"The X35 console adds to the Topcon premium range of agriculture solutions, including the user-friendly functionalities that made the X30 a reputable solution in the industry, and offering additional benefits for farmers," said Markus Kalin, product manager.
"The new feature, Horizon XTEND, allows users to manage control applications via mobile devices such as tablets and smartphones," said Kalin. "Additionally, the Remote Assistance Tool allows technicians to remotely diagnose and fix issues, as well as agronomic consultants to advise and configure remotely," he said.
MORE BY MATT HOPKINS
Digital Farming
June 24, 2019
Market Intelligence
September 10, 2018
Farm to Fork
July 2, 2018
By connecting multiple Ag cameras to the X35, the operator can control and view multiple places simultaneously.
The system includes ISO section control of up to 200 sections, designed to allow the operator to cover more sections in one pass with larger implements.
"As with previous X30, the X35 display is an all-in-one system with full ISOBUS Universal Terminal (UT) and ISO Task Controller. It provides variable rate control (VRC) for up to eight products," said Kalin.
The X35 is designed to allow full data management capability through its cloud-based technology.