AGCO, Fendt's Project MARS Pursues the Future of Farm Robots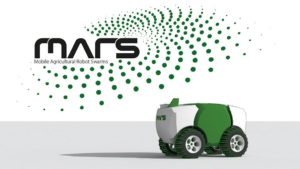 (SOURCE: Fendt.com)
MARS stands for Mobile Agricultural Robot Swarms. Or in other words, it stands for agriculture of the future, writes Fendt in a recent post regarding it's promising Project MARS initiative.
They are mobile. They are cloud-controlled. And they are many. They are the field robots of the future from Fendt. As a team, they collaborate in a completely autonomous and efficient way and with high precision. The basic idea is simplification.
How? Fewer sensors, robust control units and a clear hardware structure make each individual MARS robot extremely reliable and productive. At the same time, the use of a large number of small, identical robots operating in a swarm enables smooth running of the job, even in the event of the failure of a single unit.
MORE BY MATTHEW J. GRASSI
In-Field Technologies
July 16, 2019
Market Intelligence
June 1, 2019
Drones | UAVs
May 21, 2019
Their light weight results in a high level of safety and negligible soil compaction. And MARS robots are ready for operation, all around the clock. These aspects combine to make field robotic systems a very attractive alternative for the farmer of the future. This is our vision.
Head on over to Fendt.com to get the full low down on the MARS Project. The site has some interesting graphical elements that can help conceptualize the potential of swarms of unmanned farm equipment.