How Will Precision Technology Impact Global Crop Protection's Future?
John Deere's recent acquisition of Blue River Technology (BRT) isn't just meaningful for farmers. It suggests that the very systems that agriculture uses to deliver crop protection products are undergoing another convulsive change.
Kiersten Stead of Monsanto Growth Ventures (MGV), an investor in BRT, told AgFunder News: "This is the start of the next chapter in agriculture."
If indeed BRT's "See & Spray" technology comes into more widespread use – as Deere presumably is banking on with its U.S. $300-million investment – consider the potential impacts.
For instance, will a combination of image recognition and machine learning to apply exacting amounts of herbicide directly to weeds lead to a decrease in the need for adjuvants? Will the total as-applied volume of herbicides fall? Will older chemistries that were knocked to the curb by herbicide-tolerant traits in the 1990s make a comeback?
MORE BY JAMES C. SULECKI
Digital Farming
January 1, 2020
Vision Conference
December 15, 2019
Digital Farming
November 12, 2019
Will See & Spray-type technologies become standard issue on sprayers? Will the timing of applications change, and with it, production systems themselves? Will the current issues surrounding glyphosate-resistant weeds and dicamba drift begin to fade away?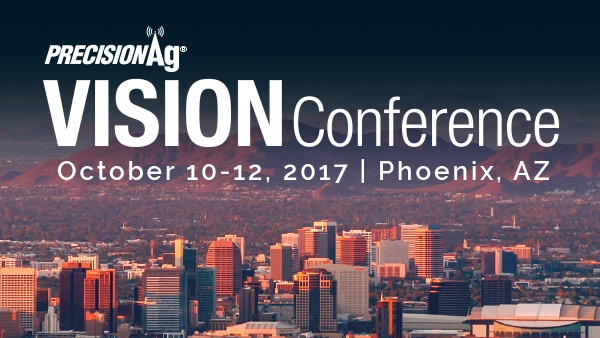 Not to mention that the environmental benefits of more ultra-precise application may be considerable. I visited BRT's headquarters in California's Silicon Valley last winter and toured the very garage where Heraud and his engineers "trained" See & Spray to begin distinguishing between crop leaves and weeds. "This is the way we should farm," he told me then. "Chemicals are a useful tool, but we should use them only when we need them – to kill the weed." The system is not yet perfect, but it's getting there, and Deere's considerable R&D heft should hasten its progress.
Heraud is scheduled to be a key presenter at the second annual PrecisionAg® Vision Conference, Oct. 10-12, 2017, in Phoenix, AZ, U.S., organized by Meister Media Worldwide and many of its media brands including AgriBusiness Global™. His topic: "Automation, Robotics, and Machine Learning."
Other Impacts on Crop Protection Application
Yet. See & Spray is but a small piece of precision agriculture's current and anticipated impact on chemical application and – potentially – on the manufacture, formulation, and distribution of crop protection products. Consider a few other key developments:
In specialty crops, precision technologies including field cameras and Internet-of-Things connectivity are being used to prove the ROI of biological products including pheromones and mating disruptors. This may speed the adoption of biological products, likely at the expense of traditional chemicals.
AMVAC's SIMPAS application equipment – now distributed globally by Trimble – can prescriptively apply multiple in-furrow dry and/or liquid products – insecticides, nematicides, fungicides, fertilizers, and/or biological products – while planting.
After years of focus on new ways of gathering field data (drones, satellites, sensors, etc.) and synthesizing and analyzing it (e.g., Climate's FieldView), considerable attention has turned again to variable-rate application (VRA) of crop inputs. For instance, a long-running survey of precision services offered by ag retailers – conducted by Purdue University and CropLife®  magazine, a sister brand to AgriBusiness Global – found that VRA of fertilizer, lime, and seed has boomed over the last several years. At the same time, VRA of pesticides has languished – but will this change? After all, SIMPAS and See & Spray are just up-to-date versions of variable-rate chemical application.
All of these important developments and more will be on the table – and on the stage dais and at the podium – when hundreds of global agriculture leaders gather next month in Phoenix for the PrecisionAg Vision Conference. Discussions there could have an impact on global crop protection years down the road. For registration and conference information, go to PrecisionAgVision.com.