2016 Vision Conference: Things Overheard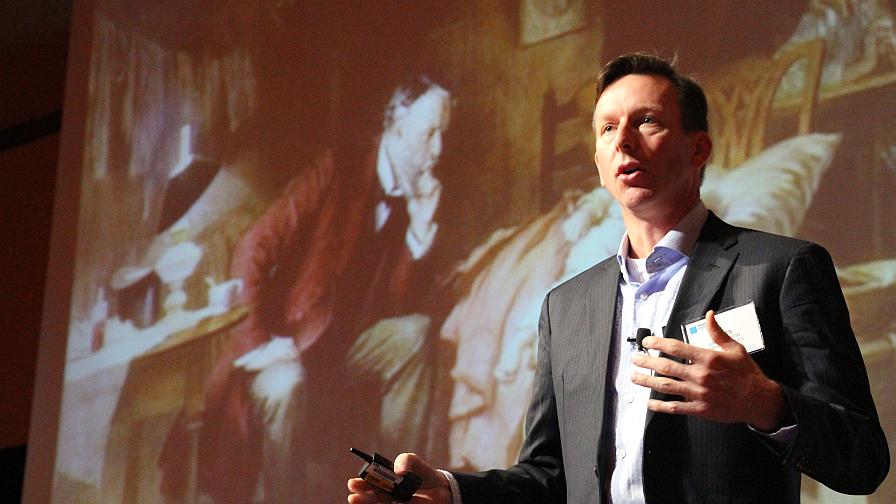 Pardon the baseball pun (GO TRIBE!), but I think it's safe to say that last week's inaugural Vision Conference touched all the bags on the future of smart, or digital, data-driven farming. IoT, weather data, the future of venture capital in precision ag – if it's ever been a hashtag on your Precision Ag Twitter timeline it's likely someone had it covered in Phoenix.
Being a B2B editor in a company that is increasingly diversifying into the live events space, we unfortunately can't spend the entire conference sitting behind a laptop and taking notes for use in future articles. There are, after all, panels that need moderating (my colleague with AgriBusiness Global, Dave Frabotta, is a natural at moderating), speakers to be introduced (I could probably use some work or film study here, not gonna lie) and audience microphones that require actual human handling during the Q&As (how have we not figured out a way to do this through the cloud, or an app, or something? Sheesh), and so on.
Anyways, now back in the office, it's always fun to go back through my notes and pick out interesting tidbits from the sessions where I found time to sit down take some notes.
So, on the following pages are a few notable quotes from the sessions that I was lucky enough to devote some attention to:
MORE BY MATTHEW J. GRASSI
Drones | UAVs
November 6, 2019
In-Field Technologies
July 16, 2019
Market Intelligence
June 1, 2019
Title: Digital Agriculture, Big Data, and Cognitive Computing
Presenter: Carrie Gillespie, The Weather Company (an IBM Business)
The buzz in precision agriculture circles around IBM and Watson, the company's sleekly marketed cognitive computing platform, has been steadily building since the computing giant's 2016 acquisition of The Weather Company. Carrie Gillespie, a Central Michigan University (#FireUpChips – I used to live near Mount Pleasant, MI – great area!) graduate with a background in meteorology, came to the conference to talk about IBM The Weather Company's strategy using smartphones to source weather data where traditional sources provide insufficient data, among other subjects.
Here were a few of the quotes from Gillespie that stand out upon further examination:
"We're using IoT and transforming weather data; it's amazing the amount of data we can bring in today. At any given time we are ingesting over 160 different models around the world, we maintain a network of 200,000 worldwide weather stations – all reporting in different times. We're also collecting data on upper atmosphere airstreams from commercial airline mounted sensors, and the 45 million people that use our mobile apps say 'Yes, you can collect location and pressure data from me'. All of this really truly helps us understand what is going on in areas where we don't have data."
Gillespie on IBM's Fertilyzer smartphone concept app, which was awarded "Best Mobile Experience" at IBM's internal Challenge contest. According to IBM, Fertilyzer taps into Watson cognitive computing technology to recommend optimized fertilization plans and track their progress:
"It's (Fertilyzer) still just a concept but its having that ability to have that approach, that personalization of what is going on in the field. With the app you can take a picture of the crop with a smartphone and take that data and the farmer can send into our IoT platform and overlay the image with other data sources and it will spit out a result (nutrient recommendation). You could even take it a step further and provide analytics and data to let the farmer know what pesticide to spray and at what time and what rate…or use weather data to send push notifications to alert the growers to good conditions for spray applications…That's where we see the future of ag going."
Panel: Food Manufacturing and Precision Ag: The Emerging Links
Panelists: Katie Anderson, Environmental Defense Fund; Rachel Grantham, Smithfield Foods; Paul Hishmeh, Field to Market; Dr. Daniel Sonke, Campbell Soup;
This panel really affirmed for me that large, multinational conglomerate food processors (think the Walmarts and Cargills and McCain's, etc.) are driving the adoption of a lot of these technologies in order to document it's sourcing chain and provide the transparency that today's consumers are no longer simply asking for, but demanding, from food retailers. For instance, Smithfield offers its grain growers a rental program for GreenSeeker NDVI Nitrogen sensors to ensure its growers are sustainably applying fertilizer, and Campbell Soup is looking closer at tomato growers irrigation data to learn what best practices in water use contribute to a higher processing quality (better taste).
Anyways, here's some interesting quotes from that panel, if you're so inclined:
Smithfield's Grantham on ensuring transparency in the supply chain:
"Folks like Walmart that want to see a different data set, I just think that, it's a big challenge for us, it's a big challenge for all of our companies. We're hoping someone comes out with a solution that works for everybody and provides transparency from the acre that corn was raised on, to the feed it becomes, to the hog that eats that feed and then makes it to the shelf at Walmart. Our grain growers, what they are providing as a product to Smithfield, the grain that they produced went into that bacon they eat in the morning – that ties a nice little bow on it for a lot of our producers – to actually know they produced that grain that fed the hog that that bacon came from."
Campbell Soup's Dr. Sonke on a new partnership:
"We've started to work with one of the many big data visualization firms – Athena Intelligence (Athena pegs itself as 'a data processing and visualization platform for the data of land, food, water, and energy) – helping Campbell's through data and analytics find the perfect combination of tomato variety, irrigation and soil type to dial in the processing quality."
Field to Market's Hishmeh on finding a TurboTax-type app for agronomic data:
"As data processors we have a lot of data point inputs – application locations, as-applied data for fertilizer, water-use throughout the year, etc…in a perfect world you'd have something similar to TurboTax that automatically is going to pull that data from the agronomic programs and put it in the right place, without any human intervention. And just like TurboTax now you wouldn't have wait to end of year to do taxes, or analyze the data, it's all real-time."
Panel: The Internet of Things (IoT)
Presentors: Ron Zink, John Deere; Kip Tom, Tom Farms (professional grower); Preet Gill, Bosch; Moderated by our friend Lisa Prassack.
This panel featured some rather thought-provoking backgrounds, Kip Tom being a 7th generation farmer from Indiana that recently dipped his toe into the political pool with a run for Congress in his local district, Ron Zink having an IT background from Microsoft prior to joining Deere, and Preet Gill who had an engineering background prior to heading up business development and corporate strategy for mega corporation Bosch.
Let's get right to some of the quotes:
Zink on current state of IoT:
"As we think about the context for IoT, to me it's the wild west right now. There are just many, many big companies rushing to create IoT platforms. You have guys like ATT and Verizon – with their pedigrees around communications it makes sense. You have industrial companies like Bosch and others looking to create IoT-based platforms in the industries they work in, and then there's computing guys like Intel, Dell and Smart Things trying to create consumer IoT, along with the Microsofts, and the Amazons and the Googles…there's nearly 100 companies thinking they will have IoT platform, so it's not really clear right now which horse to ride on this IoT journey."
Gill on what he sees happening in IoT going forward:
"What we will also see in ag and in other fields is a convergence of technologies. General Electric (GE) for example, they have a lot of different apps available. Someday you will be able to overlap different apps with ATT and GE; we will see more convergence of different technologies to provide real solutions…eventually the products which will really solve the customers' needs will be the ones that survive and rise to the top."
Tom on the next big break ag needs to embrace technology:
"I believe the next big lever to pull is the way we apply technology to farms and increase productivity and efficiency. We've got to create new business models, and start to look at farming as manufacturing – for producers like myself and others it's not a lifestyle thing, this is serious business. We need to do our absolute best, and to do that we have to have the tools at our fingertips to make sure we run these businesses efficiently. That technology has been developed and adopted, but people aren't leveraging it to the ability they need to – they're not leveraging the data into analytics to make decisions. We need to collect data from every area of our far, and we believe that in the future it is going to come down as a differentiator to access the market. Producers that don't embrace technology could be left behind."
Panel: Anatomy of Ag Investing: From Drawing Board to Reality
Panelists: Kyle Welborn, Cultivation Capital; Ryan Rakestraw, Monsanto Growth Ventures; Rob Trice, The Mixing Bowl and Better Food Ventures;
Venture Capital funding is one of the more attention-grabbing subjects in precision agriculture today. People love money, and they love seeing where the money goes and trying to connect the dots on the why and how. Our venture capital update panel covered a range of topics, and since this article is already at about 1,500 words and attention spans are getting shorter and shorter by the day, here's a few tidbits from the panel.
Welborn on what Cultivation Capital (VC fund that Syngenta participates in) is looking at currently:
"A lot of sensors, Farm Management Information Systems (FMIS), mobile applications, wearable technologies, etc…One that we've invested in with Syngenta's venture group is S4. They're a good example of a company that fits key needs across the conference; they take NASA imagery that is available for free the last 15 years and their team of agronomists developed an index to determine whether different crops will hit yield goals based on that imagery. It's relatively simple, but the big thing for us is they have 15 years of data so they can back test."
Trice on what The Mixing Bowl is looking at currently re: venture capital deals:
"We don't have deep pockets, we have to look for capital efficient deals – robotics and BIG IRON are too expensive for us; software and mobile apps, those type of things are more our speed. We evaluate prospective companies on three criteria: the team, the technology and the market; For us the team is what you really have to invest in; In terms of the space we kind of have a heat map where we have areas we say no, yes, and maybe. Food delivery companies, we won't touch that with a ten foot pole, last I checked there are almost 267 companies in that space. With all due respect to the St. Louis Cardinals, in the U.S. right now I'm more focused on specialty crops than the Midwest – not a lot of row crop farmers are trying and buying new stuff right now; in California in the specialty crop markets they are in a unique situation – the state passed minimum wage + farm worker overtime reforms so farmers are now looking at labor as an operating cost; that is changing the cost benefit on robotics and automation in that market. You turn off cheap labor it forces you to address things through technology."
Rakestraw on how Monsanto works with the startups it invests in:
"We encourage our portfolio companies to think globally to where they can sell; we want to give them access to Monsanto's footprint. Vital Fields, based in Estonia, is a company in the Monsanto Growth Ventures portfolio. They're a lot of former software engineers from Skype, they've found an interesting niche in how they've been able to grow. I guess I'd say it's kind of a TurboTax for regulatory reporting. Instead of growers filling out all the paperwork they pull the data from the ISOBUS on the machines and automatically fill in the blanks. We've also been thinking a lot about nutrient application, particularly with the team over at The Climate Corp, and what's going to be the next big sensors to measure nutrient runoff? In the U.S. the total value of agriculture production at the farm gate is about $375 billion on an annual basis, and the total amount Americans spend on food annually is up to $1.7 trillion. We want to capitalize on that and find someone with a different way to think about food and aggregation and data."