2016 PrecisionAg Vision Conference: 7 Takeaways From Phoenix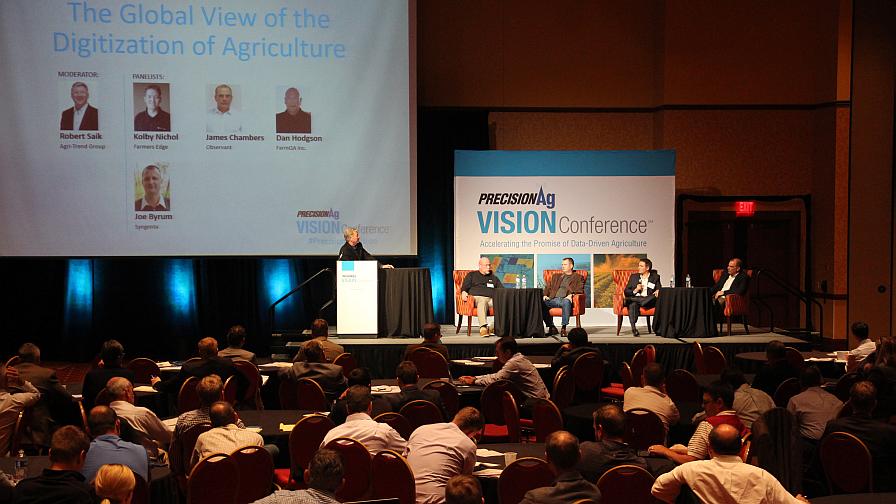 Our inaugural PrecisionAg Vision Conference, held last week in Phoenix, AZ, is officially in the books.
Having convened just over 200 stakeholders that hail from every aspect of the food production value chain over three days to discuss and debate the "promise of data-driven agriculture", the event clearly delivered on its pledge to provide "a global-view of precision agriculture" to attendees.
Hell, we may have ventured beyond global into the stratosphere during the Networking Roundtable discussions (and the cocktail receptions) alone, but that's a story for another day.
Anyways, as we caffeine-addled and road-weary journalists often do after these types of events, there were a few random thoughts and themes that stick out from the high-level sessions, at least in this author's mind.
MORE BY MATTHEW J. GRASSI
Drones | UAVs
November 6, 2019
In-Field Technologies
July 16, 2019
Market Intelligence
June 1, 2019
So now, here are seven noteworthy (or perhaps not-so-noteworthy, depending on your own evaluation of the week's discussions) thoughts from throughout the week:
Uncover the next Uber: Syngenta Global Head, Product Development – Oilseeds, Dr. Joseph Byrum made the comment that precision ag needs to find the "next Uber," and the idea of an Uber for Ag definitely stuck with our audience throughout the week. Just as Uber revolutionized how some of us get from point A to point B with a simple mobile interface that leverages widely adopted and now inexpensive technologies (smartphones, GPS) in a new way to create new efficiencies, there is hope that a simple, yet life-changing new technology platform will emerge to lead the precision agriculture world over and above the current sub-20% adoption rate that many estimate the industry is currently stuck at in the U.S.
Create Tomorrow's Smart Farm via a Connected Sensor 'Ecosystem': There are too many one-off, standalone sensor technology platforms (drones, moisture sensors, NDVI, etc) that have limited integration across the farmscape. Simply put, producers are in most cases sitting back and waiting for that one groundbreaking sensor system that feeds data into every level of the organization in a way that makes management decisions simple and intuitive. The industry needs to find a way to deploy a connected ecosystem of different sensors in a total systems approach, across multiple equipment colors and farm management information systems (FMIS) software. Admittedly we're not quite there yet, but tomorrow's Smart Farm is not as far off as we once thought either.
Large Food Processors Driving Precision Adoption: Representatives from Campbell Soup as well as Smithfield Foods participated in Wednesday's "Food Manufacturing and Precision Ag: The Emerging Link" panel. Campbell Soups' Dr. Daniel Sonke, Manager of Agriculture Sustainability programs, talked about the processed-foods giants' ongoing quest for transparency and sustainability at every level of its supply chain, and how the data collection process is no longer an "opt-in" type of deal, but is quickly becoming mandatory for any producer that wishes to market grain or animal product to one of the large multinational food processing companies. Then there was Smithfield agronomist Rachel Grantham, who discussed the GreenSeeker leasing program the pork-processing giant offers to its grain growers – Smithfield also makes ADAPT-N fertilizer-use modeling software algorithms available to growers – to allow its grain growers to sustainably variable rate their nitrogen throughout the year. It is no longer the Yeoman's work of the early adopter independent consulting agronomist or the rogue techie down at the local equipment dealership pushing growers to dive into the data collection world, but now a producer's overall bottom line in a market increasingly dominated by large conglomerate food processing companies is for the most part going to depend on it going forward.

Venture Capital Bubble About to Burst? The update from the Venture Capital world in agriculture was also quite interesting, featuring Kyle Welborn of Cultivation Capital, Ryan Rakestraw of Monsanto Growth Ventures, and Rob Trice, The Mixing Bowl and Better Food Ventures. According to the panelists, although venture capital investing in emerging agriculture technologies is widely reported as being up, much of that funding activity (about 30% of the $1.2 billion invested in 'ag tech' over the first half of 2016) is focused on emerging food delivery service providers like Uber Eats and Thrive Market, and those urban consumer-focused startups aren't going to revolutionize the way we grow food in the Midwest or anywhere else, really. Trice himself worries that we will soon see a general pull-back from Venture Capital firms on ag tech sector capital disbursements, saying "we've had a lot of money that's come in and I don't think we've had the revenue growth to keep those companies afloat, so you should expect consolidation in ag tech." That may in fact be a good thing for the industry, as the venture capital guys have a hard time identifying the next big thing in agriculture with so many similar outfits seeking funding from Silicon Valley and beyond.

Small Data Matters too: Bombastic yet brilliant University of San Francisco professor Bill Schmarzo (also of Dell EMC Global Services) is known by many as the "Dean of Big Data" for his course The Big Data MBA. Schmarzo shared that "some feel there is only value in Big Data; I don't think so. Small data brought us here, and it has tremendous value." Our fearless leader Executive Editor Paul Schrimpf's own takeaway from Schmarzo's address was that ag tech managers and program admins at the retail level need not be "afraid of the cycle of trying, failing, learning, and trying again." There is a certain value-added proposition in allowing employees the freedom and creativity to try new things and fail, and who knows if that next crazy idea might just turn out to be the next Uber for Ag.

Ag Retailers & Cybersecurity: If Schmarzo is truly the "Dean of Big Data," you could perhaps call retired U.S. Air Force Major General Dale Meyerrose the "Czar of Cybersecurity." Meyerrose has under his belt three decades of military service where he was well-known as a cybersecurity pioneer, and he now consults for large industry groups such as U.S. retail and healthcare on cybersecurity issues. Having helped the U.S. retail chain recover and move on from 2014's rash of holiday season data hackings, Meyerrose wonders if farming data will be the "next big target" for hackers. His warning that ag retailers need to stay on top of the number of employees with total administrator privileges (simplistic information phishing attacks on Insiders, as Meyerrose dubs them, account for the vast majority of corporate hacking events) on its computing networks should be heeded.

No More Silos: With apologies to the fine folks over at WinField and its Answer Tech Data Silo (and it should be noted that WinField is not the only large U.S. farming company with a data silo – AGCO, for example, keeps its two streams of data – machine and agronomic – in entirely separate storage and processing systems it calls "pipelines"), it appears silo'ing data (keeping different data layers (such as imagery versus yield data) apart during the storage and analysis stage) is going the way of Blackberry smartphones and Google Glass – in a few years it very well may be a thing of the past. Without data aggregation across multiple years, cropping regions and operations, the data itself may have limited usefulness and insight power. According to the aforementioned Dean of Big Data, we all need to get out of our silos and start combining and aggregating these massive data sets to get the kind of unique decision-making insights many of us are seeking.