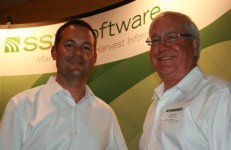 SST Software customers got half-day's worth of networking, new offerings from the company, and the formalization of a leadership succession plan during the company's Vision Conference on July 11.
"This is really a formalization of a leadership transition that has been in place for some time," says David Waits, who will continue as chairman of the board and owner, and contribute to strategic direction, while his son Matt will take the helm as CEO. "Agriculture is integrating newer and ever more complex technology, and Matt is well qualified to identify, develop and deploy those technologies to our customers."
"I am excited about the opportunity," says Matt Waits. "Dad has set a good foundation for us, stressing the need for collecting standardized data and getting the most value out of it. All of us need to build things that work, listening to growers and building value at the farm gate. With that foundation, we'll take the company forward and continue that same kind of mindset."
Among the key product announcements was that SST's retailer customers will now be able to create a branded interface that will allow growers to access information about their fields from the retail site. Set to roll out in August, the product is designed to give retailers the ability to design an interface that provides growers access to field data of the retailers choosing. Called "The Viewer," Matt Waits noted the bland name was chosen to encourage retailers to fully embrace and develop the capability as a proprietary data window for grower customers.
SST also announced more details on its imagery offering from its recent collaboration with RapidEye. SST will be offering a "one of a kind solution that cuts through a lot of the frustration of imagery delivery," noted Matt Waits. Imagery will feature five meter resolution that's searchable through SST Summit by grower and by time frame, and users will be able to preview the imagery before making a purchase. RapidEye is proactively identifying and shooting imagery for acres being served by SST, and users receive notification when new images are available. Imagery purchases made are downloaded immediately, and can be integrated with other collected field data.
Along with simplifying the process, the image itself has been made simpler to use. The initial offering provides a measure of crop density, with zero to 100 percent scale indicating from bare soil to full crop canopy. Other imagery offerings are in the works.
Finally, the company has partnered with a weather data company on developing a module that will provide rainfall and temperature information that will be collected and stored for use and analysis by retailers. Waits hopes the service will come on line by early next year.