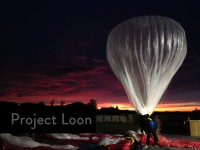 Raven Industries, Inc. today announced it is involved in a pilot project with Google designed to provide high-speed wireless Internet accessibility to rural, remote and underserved areas of the world. Google plans to use Raven-designed and developed high-tech balloons as part of its new project for balloon-powered Internet access, Project Loon.
Raven Aerostar has been working for several months in close collaboration with Google on the design and development of this technology innovation. While the program is still in its early stages, a successful trial began this week in New Zealand involving 30 balloons provided by Raven Aerostar providing Internet connectivity to an area covering nearly 10,000 square kilometers.
"Raven Aerostar is our balloon design partner and manufacturer of our envelopes," said Mike Cassidy, Project Lead, Google[x]. "They bring to the project decades of expertise in high altitude balloon engineering as well as the latest breakthroughs in super pressure balloon engineering. They also helped us design the flight control system. This system controls the balloon and helps bring it down safely."
The balloons are designed to be 60 feet tall and fly at an altitude of 66,000 feet. The teams designed sophisticated technology that can control the path of the balloons as they move through the sky. This technology moves the balloons up and down in the stratosphere so they can sail on the wind traveling in the right speed and direction. This, along with software developed by Google for managing a fleet of balloons, is a significant step in turning balloons into a viable platform for providing Internet access to rural and remote areas.
"This is a very exciting day," said Dan Rykhus, president and CEO of Raven Industries. "Solving the challenge of improved Internet access in developing nations and rural areas has the potential to improve and save lives—from improved medical care, to crisis and disaster response, to better crops for farmers struggling to feed a growing world population."
"Stratospheric, 'lighter than air' balloon technology has been a core innovation for Raven Aerostar for decades," said Lon Stroschein, vice president and general manager of Raven Aerostar. "What's exciting about today's announcement is this new, elegant way of applying this technology to the challenge of Internet access for all, particularly in remote, underserved locations. We're still in the early stages with more testing ahead, but working very closely with Google we expect, over the next few years, to make additional engineering advances and support production as the pilot project explores expanding to other countries."
Raven Industries has been involved on the cutting edge of 'lighter than air' technology since the mid-50s. The founders of the Company were part of developing modern stratospheric balloons in the mid-40s. NASA relies on Raven Aerostar to provide balloons that carry multi-million dollar scientific instruments to altitudes above 99% of the atmosphere on a regular basis. Its stratospheric balloons hold nearly all records for size, altitude, endurance and payload capacity for scientific balloons and even aided Felix Baumgartner's jump from space at 128,000 feet.
"Raven is no stranger to pioneering leading-edge applications of this adaptable technology," said Rykhus. "The pilot tests and the next phases to follow are setting the stage for serious trail-blazing efforts in global connectivity—we're proud to be a part of such a ground-breaking initiative."