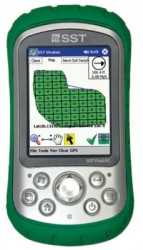 In August, a new release of SST Summit software included some new and interesting functionality that saves users a lot of time.
1. SyncNow Relationships — Collaborative Data Sharing
SyncNow is a data transfer system that allows two or more Summits to fully or partially synchronize data with one another, essentially creating a network.
If you are a service provider, you could choose to synchronize all of your data to a colleague while synching only fertilizer applications with the respective growers you service. In return, you could receive your growers' planting, tillage, or yield data. You simply set up SyncNow Relationships with those whom you wish to share data. If they accept, you start retrieving their data as they collect it and vice versa.
No more creating and e-mailing .sst packages or driving to a grower's house to synchronize collected data. In near real-time, you receive collected data from other Summits. It's the first true collaborative record keeping system in agriculture and the gain in efficiency and the increase in historical recordkeeping is a must in a true decision-support system.
2. Yield Import
SST Summit can now import GPS-collected yield monitor files from John Deere and Ag Leader yield monitors. We believe Summit has industry-best tools for importing, cleaning, analyzing, and reporting yield.
Users have the ability to do post calibrations of yield data as well as edit swath width and monitor settings in SST Summit. File extensions included are .yld, .gsy, .gsd, and .fdl. The ability to import from Case IH yield monitors will be available soon.
3. Turn-by-Turn Field Routing And Google Earth Export
Turn-by-Turn Directions to Fields. Fertilizer applicators will never again have a problem finding a field. In Summit, you open the field in which you want to route, and simply click the Routing button. A new screen displays a map with the fastest route from your location to the field along with turn-by-turn directions. You can also set up a navigation order from your location to multiple fields so you can easily navigate from the first field to the second, and so on. Printing is as easy as clicking a button.
Google Earth Export. Have you ever wanted to see your farm fields from every possible angle and height? Now you can with Summit's integration with Google Earth. In Summit, you open a field and select the Google Earth button and watch as you zoom down directly to your field. From there you can get driving directions to the field or save the image as a .jpg. (You must have the free Google Earth program installed.)