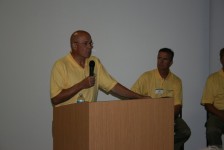 Perspective  Working as an ag journalist who must board a plane to reach the darkest reaches of the Midwest Corn Belt, I probably have no right to say this. But after spending two hellish days haunting the Farm Progress Show, row crop agriculture's last fling of summer (no disrespect to Husker Harvest, which actually follows) and chasing back and forth to far flung hotels, I have had my fill seeing and talking about the thousands of acres of dead, crispy crops. Putting aside that many growers prudently procured the proper insurance, I can't really fathom what it must be like to wake up and look at it every day.
We got a small, relatively modest sampling  of nature's wrath, with temps in the mid 90s the two days I was there. But after 12 hours in the heat with only brief respites in air conditioned tents, not even a nifty bow and arrow show that Case IH intertwined within its introduction of new equipment could raise me from the near dead as day one ended.
All this said, there was a whole lot going on at Farm Progress, especially in the technology space, that made the journey more than worth it. Some things were screaming obvious, and some of it could be found below the surface.
For us in the media, the Farm Progress Show experience started with a bang, as Monsanto afforded us the opportunity to see how the pieces of its Integrated Farming Services (IFS) precision agronomy effort are coming together … or as Monsanto's Dave Rhylander explained to me, it was  chance to 'connect all the dots."
First, a word about the seriousness of this particular effort. Three top executives with the company, Jon Jansen, Rhylander, and John Raines (IFS Commercial Lead) have been working with IFS Strategy Lead Ted Crosbie, the guy who's championed this effort throughout its evolution at Monsanto, to drive this project and bring it to the forefront of corporate psyche. Chief Technology Officer Robb Fraley was there to kick off the media show and tell, and after chatting with a number of the folks in attendance from the company it is clear that some of the best and brightest are in the mix. Significant man hours and dollars have been expended. This is not a fail fast, fail cheap, bail out move … it's coming.
I put this forward for your consideration only because there have been many fits and starts in the precision ag space over the past 15-plus years, and many grand plans have failed miserably.  I don't see that here.
So here's the deal. Monsanto is planning to leverage its knowledge of its own germplasm and biotech traits, along with its own data about  relative performance in a wide range of real world field conditions (amounting to millions of data points) to deliver specific seed selection and plant population recommendations to growers, heretofore branded as FieldScripts. It has developed proprietary algorithms it believes can deliver solid localized recommendations to (eventually) any grower, anywhere.
Monsanto is rolling things out slowly for 2013, with specially selected growers in Indiana, Illinois, Iowa and Minnesota, working with selected seed dealers on DeKalb branded corn hybrids. The seed dealer will be critical to the process, acting as trusted advisor, central communicator and technical specialist to bring growers into the program effectively.
Growers who sign onto FieldScripts will be required to dedicate a minimum number of acres to the program, and they will submit any historical data they can provide on soil and fertility, yield, past hybrids planted, and cropping practices.  Monsanto will take that information and provide specific hybrid and variable rate (where required) plant population recommendations to the grower.
In this launch phase, growers will be required to use planter technology built by Precision Planting, the company Monsanto acquired earlier this year, another indication of how serious Monsanto is about making this happen. It's clear that Monsanto was enamored with Precision Planting's dedication to seed spacing accuracy, as well as its ability to automatically (and rapidly) implement changes in rate while planting. Finally, they also announced the addition of hydraulic downforce control at the planter box level to the Precision Planting system, which they claim will greatly increase the consistency of planting depth.
Essentially, Monsanto is trying to take the uncertainties out of the seed selection and planting process.
At the media event representatives from Winfield Solutions, Brandt Consolidated and GROWMARK were on hand. Each have a stake both in the selling of Monsanto's seed brands and in the total agronomic recommendations they develop with growers each year. The question in my head was, how does this impact their professional agronomic recommendations?
What I heard was that in the end, no one really knows Monsanto seed like Monsanto, and if they can bring the best recommendation to the table then it's a good thing. And the other services they provide as a trusted advisor will continue, and in a perfect world, improve.
Monsanto plans to widely release this offering in 2014 and provide more growers with the ability to take it for a test run. Will it take off? It's hard to say. We've seen perfect storms go both ways in agriculture where ideal conditions have allowed products and practices to rapidly expand, and where challenging conditions have triggered setbacks.
Will growers be willing to trust and share data? Assuming success, how soon with Asgrow and Channel and the Monsanto affiliated brands come into the fold? For full service retailers and agricultural consultants who don't handle Monsanto brands, how will the decision support services they provide mesh with FieldScripts? Steve Cubbage, a highly respected precision consultant who sat in on the Monsanto festivities (and is himself a Precision Planting dealer through his company Prime Meridian), told me he'd get back to me once he digested everything.
The main message for me is, find out what you can about it, and how it might affect you and your operation. Because it is coming.
That's it for this week, but there were plenty more takeaways from Farm Progress to be shared in the days ahead. Catch you then …