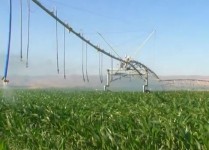 Lindsay Corporation, maker of Zimmatic irrigation systems, released three new products designed to improve irrigation installation and management.. They include the following:
The new online calculator can be used to determine the return on investment of installing a custom corner pivot irrigation system.
The calculator tabulates the upfront investment of Zimmatic by Lindsay's 9500CC Customer Corner with GPS Corner Guidance.
According to Tanner Hoffman, Zimmatic product manager, the calculator takes into account fuel or electricity cost, the annual revenue increase and years to break-even for the investment. Growers can also evaluate the investment across various crops, including corn, soybeans, wheat, cotton and potatoes, while taking into account yield and commodity price scenarios.
"As land prices, cash rents and commodity prices continue to escalate, this payback calculator uses real conditions and real numbers to help growers determine how an advanced RTK-guided corner irrigation system from Zimmatic could work into their operation and increase profitability on more acres," Hoffman says. "The 9500CC uses the latest technology to push production and profit margins by allowing growers to irrigate more acres on fields with irregular boundaries."
A GPS base station located at the pivot point communicates to the 9500CC's corn arm, providing RTK correction for repeatable path accuracy. SmartChip technology from Lindsay helps determine the best application rate for a custom watering program to eliminate over- or under-watering.
"As global demand increases for food, fiber and fuel, additional pressure is placed on agricultural commodity production. Adding a corner system can bring 20% or more acres into production, without buying or renting additional land," Hoffman says.
The new FieldNET wireless irrigation management now includes several new features and user interface enhancements for remote control of center pivot irrigation systems, lateral irrigation systems and pumps.
Also new to FieldNET Mobile are apps that are compatible with the iPhone, iPad and Android devices so growers can check their entire irrigation system from virtually anywhere.
"FieldNET was redesigned around a completely new and modern architecture that provides a much more integrated solution for water management," says Reece Andrews, new technology product manager at Lindsay. "It's even easier to use and information is more insightful with a new patent-pending user interface."
Andrews says the new design features are a result of research conducted by Lindsay to better understand the wireless irrigation management needs of growers. A common theme was how widely growers used the FieldNET Mobile application in a variety of working conditions and how much users value speed and convenience when managing their irrigation systems remotely.
FieldNET includes a system dashboard that provides a graphical overview map of a grower's entire irrigation operation—even across multiple farms. A new feature allows users to click or tap a status icon on the main system dashboard and access a "Quick Tray" to manage irrigation functions without ever leaving their system dashboard.
In addition to controlling pivots, laterals and pumps, FieldNET can monitor and record water usage, energy usage and tank or pond levels. Growers can also monitor web-based weather information such as temperature, rainfall, humidity and wind speed. The product is designed to work with a variety of plug and play sensor add-ons. FieldNET also works on non-Lindsay pivots.
Lindsay also introduced VISION for Laterals, an automatic control for lateral irrigation systems.
"VISION for laterals creates an entirely new experience for growers thanks to its user-friendly design that allows irrigators to automatically control their systems with just the touch of a button," says Reece Andrews, new technology product manager at Lindsay. "It's 15 times faster to program than other laterals panels and has a user-friendly interface that gives the operator a quick view of key information and reduces errors with easy, accurate programming with GPS positioning."
VISION's "EZ Water Wizard" saves water and labor by automatically varying the water rates so that the lateral never has to complete a dry run, and no area is over- or under-watered. Up to 20 water zones can be created in just a few steps with the product.
VISION for laterals features enhanced shutdown diagnostics, works on multiple field options and is designed specifically for Zimmatic 9500L irrigation systems.
"The system's versatility is really unmatched. Our patent-pending EZ Water Wizard is a breakthrough in a grower's ability to work smarter thanks to the system's intelligent operation. Plus, the software is tailored to square and rectangular fields, so it fully automates normal lateral functionality," says Andrews. "We are excited about this addition to our product line that gives growers another tool to improve field management in a user-friendly and efficient way."