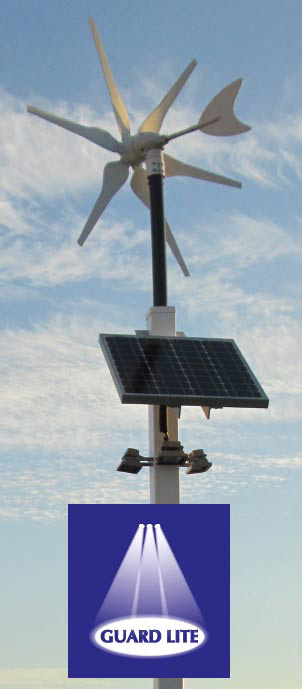 Liberated Energy, Inc. is excited to announce the Guard-Lite, a lighting and security system for crops. Its unique self-powered design enables it to be installed at any location without wiring or an electrical permit. With an increasing need for security and the demand for alternative energy growing, the Guard Lite provides a complete solution.
The Guard Lite to Enable Agriculture 365 Days a Year
Who says crops can only be planted on vast farms in the Midwest. It is possible to grow crops in isolated city warehouses without sunlight by implementing Liberated Energy Inc.'s hybrid wind and solar powered LED lighting and security systems. This innovative idea of urban farming has been developed and quietly making progresses over the past decades.
Rural and Ranch Wind & Solar Powered Surveillance Cameras and Lighting
Many ranchers would like to know who is at the gate or barn without having to drive out and meet them face-to-face or simply have the need of maintaining security at these locations from thousands of miles away. The Guard Lite provides solar and wind powered wireless security camera and lighting systems that are both a license plate camera and motion activated camera system combined. Ranch and property owners can maintain security on their remote properties by installing the Guard Lite wireless outdoor security cameras in areas where a "picture" would provide vital information for the owners to proceed with their daily activities.
These pictures acquired by the wireless outdoor security cameras can be instantly pushed to any mobile phone as an SMS alert or stored on our cloud-based servers for future review. The web-based User Interface that is available in a Mobile Phone App, is the software that controls the solar and wind powered cellular security camera for picture acquisition methods, capturing a LIVE image, time-lapse video and many more helpful features.
Many ranches have feeding and water stations that require a long drive to get to in order to verify food and water volume for the animals. The Guard Lite solar and wind powered outdoor surveillance camera, will provide a LIVE image upon request at these locations and deliver them to any mobile phone and email instantly. This remote security camera technology is making the rancher more efficient in how they operate and increasing their profit margins.
Some ranchers and farmers simply have crops too far away to visit all the time and observe if it time to take action with heavy farm machinery or just check on overall growth. The outdoor wireless security camera makes these unnecessary trips a thing of the past while documenting crop growth for future comparison and knowledge.
This motion activated camera with night vision technology and lighting is a great product that farmers can use especially in the night hours on the ranch. If an unexpected visitor enters the property, the ranch owner will receive an instant SMS alert on a cell phone once motion is detected. The Guard Lite provides rural and ranch locations modern technology in a not so modern environment. Solar and wind wireless security camera and lighting systems by Liberated Energy are changing the way Farmer's & Ranchers operate their businesses.