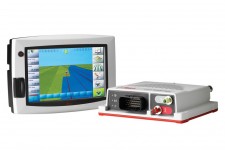 Leica Geosystems has entered into a software license agreement with Deere Company to provide guidance software for a range of new AutoTrac-ready tractor models directly via the ISOBUS. To date Leica Geosystems precision agricultural solutions cover a wide range of John Deere models.
The signed agreement enhances the level of further compatibility in a significant way. It includes 61xxR, 62xxR,72xxR, 82xxR, 83xxR, 93xxR, 94xxR, 94xxRT, 95xxR, 95xxRT AutoTrac Ready tractors and future models which will be released within 2012 and 2013.
"We are very pleased to gain a new range of John Deere models through this agreement," said Robert Kiernan, Business Development Manager for Agriculture at Leica Geosystems. "The agreement offers more farmers easy access to our precision guidance solutions in a new tractor generation."
For more information about Leica Geosystems agriculture products visit www.AgGuidance.com.