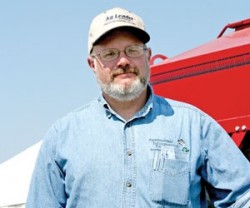 Precision ag is only as precise as the equipment that's doing the job. To help ensure that sensitive equipment is safe during the off months so it's good to go next spring, we asked a couple of friends of PrecisionAg.com for some advice on winterizing and winter storage of precision equipment.
Providing tips for us are Tim Norris, president of Ag Info Tech, a precision consulting firm based in Gambier, OH, and Tim Heins, product manager at Raven Industries.
Cleaning and General Inspection of Rigs. When cleaning combines, tractors and applicators for storage, keep in mind that electronic connections are designed to be weatherproof but not necessarily pressure washer-proof. "Avoid pressure-washing the external electronic modules," says Heins. "If you do accidentally wash one, then unplug the connection, make sure it's dry, and re-apply dielectric grease if needed."
Take a Picture.  Before you remove components for winter storage, Heins says it's a good idea to take a picture of how components are hooked up and where they're located on the rigs. The pictures can be used for reference in the spring if you run into trouble.
Store what you can. Norris and Heins both said that even when equipment is stored indoors, it's a good idea to remove it and store it in a safe, stable location at a temperature of 50 to 60 degrees F. Any exposed connectors should be greased with dielectric grease and capped or protected in some way from moisture and dirt. And while all precision equipment is ruggedized to handle a wide range of temperature extremes, it's always a good idea to bring in high tech equipment that would otherwise sit inside.
Pull off and store data. Winter is the ideal time to remove the data files from field equipment and get them organized for storage and analysis.
Inspect and note needed repairs. Check wires for broken connectors and kinks that will need repair before next season, and schedule in repairs and order replacement parts before the spring rush.
Yield monitor components. Norris has seen his share of flow sensors left on combines ruined by rodents chewing up insulation. He recommends removing the sensor and safely storing it, and checking wires and components for damage that might compromise the data.