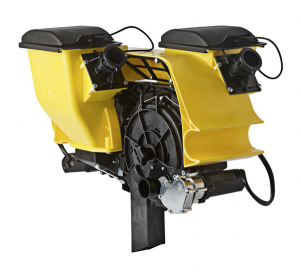 Precision Planting announced limited details regarding it's newest concept, SpeedTube, today at its annual winter meeting, as well as via the company's official Twitter feed.
SpeedTube, which the company claims "allows farmers to run planters at significantly higher speeds while maintaining accurate seed spacing," is not yet cleared for commercial launch, and the company announced no further details on the product's to-market timeline.
Additional product specifications and other details are scarce, but according to the company, when paired with vDrive and vSet meters, SpeedTube replaces the traditional seed tube, and is reportedly variable-rate compatible and will also be compatible with the latest in electric meter drive technology.
Early results of Precision Planting trials have indicated that those planting currently at speeds of 5-6 MPH will be able to double their speed threshold, planting at speeds between 10-12 MPH. According to the company, Precision Planting field tested the SpeedTube at 10 mph across a wide range of field conditions, including no-till, conventional till and vertical till fields in geographies across the country.
SOURCE: Reporting from AgWeb.com's Ben Potter was used in this post.