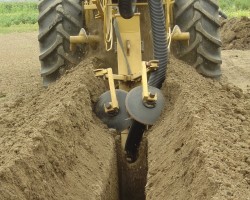 As a by-product of the Drought of 2012, many precision ag experts think that there will be a big push into different forms of water management in the next year. According to Jeremy Wilson, technology specialist for Crop IMS, Effingham, IL, water management technology was already moving from its stronghold in the West and Central Plains states into some non-traditional regions.
"The adoption of GPS-based irrigation systems with variable-rate application water maps has started moving east into the Midwest at a rapid pace in the past year," says Wilson. Coupled with this, he adds, is the adoption of sub-soil drainage, which has increased dramatically during 2012. "A majority of this equipment is now outfitted with RTK-level GPS equipment to insure the proper placement of field tile," says Wilson. "This has, at the same time, led growers using RTK-level GPS on their other equipment for application since they own the RTK equipment for tile machines."
Tim Norris, manager for Ag Info Tech, LLC, Gambier, OH, has also noted this interest in water management precision agriculture.
"I would say our number one trend right now is GPS tile installation," he says. "This has been a huge growth segment for us this year." According to Norris, customers like the fact that GPS tile installation has a quick payback while making growers more efficient.
In addition, Ag Info Tech has seen an uptick in the use of tile design software among its customers. "We have been using Farmworks Surface software," says Norris. "That as a tool to design tile systems has greatly reduced the amount of work required to design a tile drainage system."