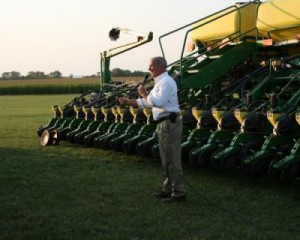 Let's face it — keeping tabs on the latest technologies in precision agriculture is a challenge. Over the past few years, market innovations and new system approaches have been introduced at an often rapid-fire pace.
It's for this reason that Precision Ag Special Reports first introduced its annual Tech Top 5 issue. Although there are numerous technological advances each growing season, our pool of industry experts has normally been able to distill this list down to the five technologies that are leading the marketplace's drive forward. In fact, in most years, the insiders' lists have virtually matched, with only a few alterations in rank order being the key difference.
But not this year. For the 2013 Tech Top 5, there was little agreement among our market watchers. All told, there were closer to one dozen technology categories cited as being worthy of making this year's Tech Top 5 list. In truth, the situation reminded us of one of those spinning prize wheels at the county fair, landing on a different symbol each time.
Perhaps Jeremy Wilson, technology specialist for Crop IMS, Effingham, IL, summed up the Tech Top 5 picture in 2013 best with this statement: "The rest of 2013 and 2014 have enormous potential to bring new tools for precision ag enthusiasts to be better service providers, agronomists and growers."
Even without universally agreement among precision ag watchers, Precision Ag Special Reports was ultimately able to identify the top five technology trends for 2013. Most of the categories on this year's list are similar to ones from prior years, with one notable exception at No. 5.