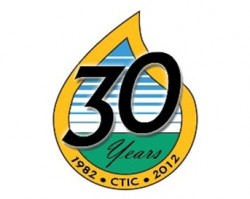 The Conservation Technology Information Center is celebrating 30 years of service to agriculture by hosting an anniversary party on October 25 from 12:00 – 8:00 pm at the Monsanto world headquarters in St. Louis.
A day of learning and fun is planned for this free event, highlighted by two fascinating panel discussions.
The first panel discussion is titled "Looking Back on 30 Years of Conservation." Moderated by Neil Strong, a retired Syngenta executive and former CTIC board chair, the panel will bring together a variety of speakers, including:
• Steve Taylor, president of the Missouri Agribusiness Association, former director of the Environmental
Resources Coalition and a veteran of the Missouri Corn Growers Association and the Missouri Department of Natural Resources;
• Bill Richards, an Ohio farmer who served as chief of the U.S. Department of Agriculture Natural Resources Conservation Service (NRCS) under President George H. W. Bush;
• Brent Haglund, president of the Sand County Foundation and the Bradley Fund for the Environment, a longtime consultant on conservation issues and author of Wild Wisconsin and Hands On Conservation;
• Jane Frankenberger, head of Purdue University's Cooperative Extension program in soil and water engineering and author of dozens of papers on water quality issues; and
• Bruce Knight, a conservation policy consultant and third-generation farmer and rancher. In 2002, Knight was named chief of the NRCS, a position he held until being promoted to USDA undersecretary for marketing and regulatory programs, where he served from 2006 to 2009.
The second panel is titled "Looking Ahead: Challenges and Opportunities for Ag Conservation." Sara Wyant, president of Agri-Pulse Communications, veteran farm policy reporter and former director on CTIC's board, will moderate.
The panelists include:
• Fred Luckey, chairman of Field to Market, the Keystone Alliance for Sustainable Agriculture, and retired executive vice president at Bunge North America;
• Dan DeSutter, a long-time conservationist on his 3,800-acre Indiana farm and host of one of CTIC's Conservation In Action Tours;
• Larry Clemens, Th e Nature Conservancy's assistant state director for conservation programs in Indiana and a CTIC board member who has worked on conservation farming issues from the American Midwest to the Brazilian Cerrado;
• Jerry Hatfield, director of the USDA-Agricultural Research Service's National Laboratory for Agriculture and the Environment and member of the Intergovernmental Panel on Climate Change (IPCC) team; and
• Jim Moseley, an Indiana farmer who has served in a variety of academic and government posts, including deputy secretary of USDA and agricultural advisor to the administrator of the U.S. Environmental Protection Agency (EPA). He is currently one of four co-chairs of AGree, a long-term, collaborative initiative focusing on U.S. food policy.
There is no cost but registration is required. For more information and to register visit the event web page.