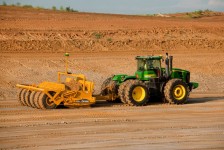 To help growers improve accuracy and efficiency in managing surface water movement implement guidance John Deere Ag Management Solutions has introduced two new applications.
The first is called iGrade, a GPS-based system that enables operators to build and maintain field surface water management structures, using many of the same components as they use during crop production.
The second, iSteer, provides active implement guidance to increase accuracy and repeatability in straight-track field applications.
"John Deere has developed a number of precision ag solutions that can be used in specific field applications to improve productivity," says Audrey Bartlett, AMS product marketing manager for John Deere. "With iGrade and iSteer, we are providing solutions for specific field and equipment needs that will help customers become more productive in their farm operations."
iGrade automates the control of the tractor's scraper blade to enable basic grade and slope design; distance-based hydraulic commands; and Surface Water Pro Plus automation. By automating the blade's position, operators are able to more efficiently and effectively manage surface water issues in the field.
Because it uses an RTK correction signal, operators spend more time grading and less time setting up and moving laser components. iGrade is accurate up to one mile, compared to just 1,000 feet for lasers. Also, unlike lasers, RTK accuracy is not affected by wind, dust or heat.
iSteer consists of a receiver and a hydraulic steering system, both attached to an implement, that enables the implement to automatically correct its position in the field independently of the tractor's guidance line. It is completely integrated with approved John Deere tractors and requires a StarFire RTK system to operate. The implement must also have its own steering system.
The iSteer system is optimized for strip-till operations, with standing row crops and bedded crops, and other applications that require precise implement positioning. iSteer reduces overall input costs and improves productivity when cropping practices require multiple passes through the field.
For more information visit John Deere online.