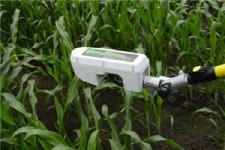 Few areas of the country were hit as hard by the drought of 2012 as central Indiana, cutting into yields and making it difficult to determine the real value of precision agriculture services. Ceres Solutions, a retailer that operates around some of the most challenged farmland in the state, worked hard to help growers manage through the tough times.
Ceres' long time commitment to precision agriculture services keeps growers focused on the future, even when a drought serves as a significant obstacle to yield gains. Dan Weber, Ceres' vice president of agronomy, says that variable rate fertilizer and lime have been a central focus of the company's program since the company was formed in 2007.
"I'd say that about 70% of fertilizer and close to 100% of the lime we sell is applied by variable rate," says Weber.
It starts with grid sampling, which is done the traditional way on 2.5 acre grids at a depth of eight inches. Getting the depth right consistently is important, and samplers use a power probe to ensure best uniformity in sampling.
Managing pH variability is a no brainer, says Weber. "We're striving to make it as even as possible across the field, to get it at a consistent level and maintain it. It takes a few years to get that consistency, and variably applying lime to maintain that balance is just good use of the technology."
As far as machinery to get the job done, Weber says they use a relatively equal balance of red, yellow and green equipment. "They all have the technology to get the job done and our tech guys have learned how to use them," says Weber. In all, Ceres soil tests approximately 120,000 acres on an annual basis.
In addition to lime, potassium and phosphorus, Ceres is doing some work with variable rate nitrogen, specifically anhydrous ammonia. One of the Ceres locations is gaining experience with the GreenSeeker sensor technology to manage nitrogen application in season, and while the drought skewed the potential benefit of the technology Weber noted that is was "a good year for learning how to use it."
Variable rate seeding is also starting to take hold, in particular with early technology adopters. Ceres is a Precision Planting dealer, and interest continues to increase on implementing the technology.
Finally, Ceres is having strong success with its tissue analysis program which it kicked off four years ago. "We take a tissue sample for analysis four times a year in corn, and three times a year in soybeans," says Weber. "It's really been great; we're trying to identify that 'hidden hunger' in the plant and react while it  is still growing and we can do something about it.
"We also are using what we learn to develop the program for the next year," he adds. For example, if a sulfur deficiency is identified, the grower could choose to apply it earlier in the season as a "preemerge" and not have to make an extra trip through the field.
Employing interns to run samples, more than 500 fields underwent the tissue analysis regimen. "The service is good for the farmer and for our business, says Weber. Yield response was good last year … not as good this year due to the drought, but the program is working."