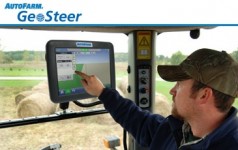 Novariant, Inc, has announced today its decision to focus its business on providing tailored solutions for OEM partners across the globe. This announcement reflects the strategic shift that has been underway since Novariant established partnerships with Ag Leader Technology and Raven Industries, Inc.
"We recognize that there are two key points of purchase for precision steering solutions in the agriculture industry," says Dave Vaughn, CEO of Novariant, Inc. "We have had great success in the aftermarket and will continue to meet those needs via our Value Added Reseller partners. At the same time, we recognize the importance of the OEM point of purchase and the factory direct install and will focus parts of our organization to address this space."
As part of this refined business focus, Novariant has assigned the rights of several of its aftermarket European distributors to its longstanding partner, Ag Leader. This follows Novariant's successful 2010 transition of North American distribution to Ag Leader. Novariant will continue to sell its industry leading solutions in Australia through its wholly owned subsidiary, GPS-Ag.
"We have a strong relationship with Ag Leader as evidenced by our joint success in North America," offered Vaughn. "We will continue to build on that success in Europe where our common distribution network makes for a natural transition."