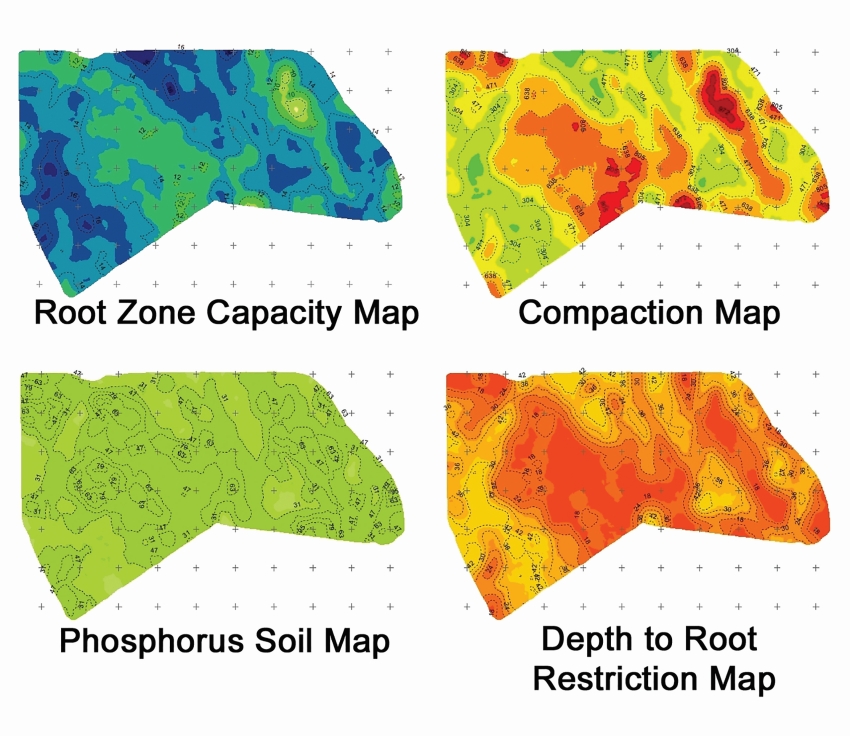 As with all things precision ag, industry players are constantly asking, "What's next?" With an established technology such as variable-rate application, the answer doesn't as much lie in hardware advances — though vital fine-tuning is a given — as in getting better information to create better prescription maps.
Another place for growth? Moving information around as quickly and accurately as possible.
Variable-Rate Nutrition
Let's start with the fine-tuning. Variable-rate fertilizer application may be mature, but there are still a few things that can be done to improve its efficiency, says Dave Lovell, manager of field sales and market support with AGCO Corp.
In particular, he points to the increasing concern with product overlap — potentially damaging the crop and wasting expensive product — as a driver for increased boom section control. He says AGCO and its competitors are getting more and more requests to increase the amount of boom section splits, narrowing down how many nozzles are spraying product at one time. The challenge of controlling spray "down to one nozzle on a 120-foot boom is huge."
Lovell also sees more development in technologies to eliminate the variables that equipment operators may face, to help them spray the right amount of product in the right location at the right time. Boom sizing, types of controllers, section control and boom height management can all be tweaked. The goal is for the operator to spend more time simply monitoring the system and less time turning on and off boom sections or raising or lowering a boom on uneven terrain or headlands, for instance.
"It comes down to taking away some of the stress points for the operator," he says.
Automatic boom control has more recently moved over to granular fertilizer spinners, where it's controlling the application width of the spinners to avoid overlaps, points out Nathan Watkins, product planning manager for crop input control and autosteering at Topcon Precision Agriculture. "This is certainly popular in Europe right now and should become more popular in the U.S.," he says.
Ease, Effectiveness
Even though VR technologies are widely proven, many growers are still not taking advantage of today's systems. Manufacturers see a next step in VR evolution is getting more users on board. Chris Batdorf, product marketing manager with John Deere's Intelligent Solutions Group, believes the key will be to make it easier for farmer customers to implement the technology.
Making the process easier is one reason Deere launched its wireless data transfer capability through its MyJohnDeere.com website. "We're leveraging telematics capabilities to transfer yield data from the combine to our cloud," he explains. "We can take that harvest data, push it into our Operations Center where the farmer or farm manager can work with their trusted agronomist to develop a fall fertilizer prescription, then next day push their prescription to their sprayer, dry spreader, or tractor to be applied within hours."
In fact, Batdorf touts the sharing capabilities of the MyJohnDeere.com operations center, allowing growers to open up their field information to their agronomist.
Deere's wireless data transfer feature was launched earlier this year (as a trial, no-cost upgrade to JDLink Ultimate with Remote Display Access).
Mike Martinez, marketing director for Trimble's Agricul­ture Division, agrees that further adoption of variable rate technologies will depend on ease-of-use and accessibility. Trimble's Connected Farm solution also allows everything that's being performed in growers' fields to cycle back as information, readily accessible to customers and their advisors via the Internet.
Martinez says the next step in variable-rate evolution is to make systems more effective via VR prescription maps fueled by better agronomic information.
"I know I can apply fertilizer very, very accurately with a prescription, but how optimal or accurate is that prescription?" he asks. "The next area to really dive into and gain more in-depth, more accurate understanding is the soil."
Trimble now has a tool to help users get that soil information. In June the company launched its Soil Information System (SIS) product. The multi-step technology creates three-dimensional, high resolution images of fields, reaching some four feet deep and offering data on/creating maps of root zone depth, soil texture, plant-available water, compaction depth, macro and micronutrient levels, soil nutrient holding capacity and salt and toxicity concentrations.
The system can also specifically target where an advisor or farmer needs to collect core samples, instead of following the conventional practice of setting up a standard one- or two-acre grids. And the cost of SIS brings very high quality soil information within the financial reach of a typical grower, says Martinez. In the past, resolution and quality of soil sampling and field analysis have often been limited by the farm budget.
What about recent falling crop prices and the accompanying leaner input investments? Will use of variable-rate fertilization go down? AGCO's Lowell doesn't think so. Growers want to save on inputs, but they also now know that they can maximize income-generating yield with the technology, he says.
Whether growers/retailers utilize boom sections as simple as three to seven — or up to 30 to 32 — they are realizing payback for their specific situation, affirms Mike Gomes, vice president of business development with Topcon Precision Agriculture. In fact, Topcon's ISO Virtual Terminal (VT) operates in parallel with the company's X30 Console to perform up to 32-section auto section control in both sprayers and planters. The X30 simultaneously controls and records data for up to eight products.
Planting Advances
Variable-rate planting is beginning to take off in some regions, with more growers expected to sign on as they see yield gains. Trimble's Martinez says hardware on seeders and planters is "working really well," plus use of RTK and other high accuracy technologies has been effective. A huge contributor to success, as in VR fertilizer application, is to assemble the proper system and make sure it's set up, installed and calibrated accurately.
One example of how manufacturers are working to improve execution of variable planting prescriptions is John Deere's introduction earlier this year of its ExactEmerge row units. The rigs feature new technology that can plant at speeds up to 10 mph while maintaining superior seed placement, says Batdorf.
Information exchange is vital here. In conjunction with the launch of the ExactEmerge planters, John Deere has introduced SeedStar Mobile to help producers better visualize, document and access their planting data. It provides row-by-row performance data on an iPad inside the tractor cab, in the office or on the go. Depending on the configuration of the planter, the system collects and monitors population, singulation, seed spacing, downforce, variety, and ground speed, on a row-by-row basis — in high-definition maps.
SeedStar Mobile is currently in limited cooperator testing with full production release scheduled for next year.
Varying Varieties
The next frontier for variable-rate technology will be switching multiple hybrids on-the-go. But Dale Koch, engineering product lead with Precision Planting, says growers are limited here now because of poor equipment options.
"Currently, the only viable option for changing hybrids on-the-go is to use a repurposed twin-row planter," he says. "This option results in row offsets, increased row unit maintenance, and increased upfront cost."
The agronomic opportunity clearly exists, though, Koch says. Precision Planting has developed a retrofittable a multi-hybrid metering system that uses the innovative vSet meter technology and the new vDrive electric meter control system. Two meters are positioned to fit within the existing row unit frame and deliver seed to a single, standard seed tube. The electric drive system allows for instantaneous switching from one hybrid to the other — including the ability to plant each hybrid, and even each row, at different populations.
"As this technology goes mainstream, it will require even tighter integration between the seed companies and the growers to ensure that the right hybrid at the right population is planted in the right place," says Koch. Currently the system is in a concept phase and no schedule for commercial release of this system has been determined.
Martinez says Trimble understands widespread adoption of multi-variety planting technology is dependent on other agronomic factors in the field. "That's why we're specifically focusing on those pieces, such as the soil, before more time is spent on the hardware side," he explains. "We don't want a farmer to go buy hardware and find maybe it doesn't pay because he was unable to obtain an actual prescription to drive that technology.
"Once the agronomic pieces are in place, then I think this is an incredible technology that will bring the industry to the next level of productivity," he says.
Pesticides On The Go
Attempting variable application of pesticides is another area of growth. Currently specialty crops may be using variable-rate fungicides or insecticides, particularly if they've found methods for understanding pressures and modeling of the respective pest or problem, says Gomes. And use of variable rate application of materials such as soil fumigants against known infestations of soil borne nematodes is common in crops such as potatoes in Idaho and Washington.
"The most significant challenge is developing consistent metrics to understand or quantify the pest, weed or disease for elimination — and understanding your threshold or trigger point to take action," says Gomes.
Growers then have to have confidence about which areas need more or less treatment. Gomes says most often they start with common sense techniques of what they recognize, such as increasing rates of miticides in areas near dusty roads to reduce pressure from mites. Another example would be producers using sulfur for powdery mildew in grapes.
As with agronomic prescriptions, information is key.
Trimble's Weed Seeker has been most effective in regions of the world and in certain crops where growers have to deal with herbicide-resistant weeds that require very specialized, costly products. Broadcast sprays are simply out of the question, says Martinez.
On The Irrigation Side
Variable-rate control of water application, both pivots and drip lines, has emerged in just the past few years as a valuable tool. The largest players in irrigation have been developing variable-rate systems. Their technology can now control banks of sprinklers, turning on and off sets of one to 20 sprinklers at a time.
One Valley Irrigation product, for instance, offers 5,000 management zones, with each zone along the pipeline being controlled independently. A unique prescription is written for each machine based on yield, soil and topography maps, as well as other data, to apply a precise amount of water in each zone.
Trimble's Martinez would say here again, much of the hardware is in place, but precise prescriptions for how much water should go where have still not gone mainstream.
He would tie variable water inputs to soil data as well — and to the help Trimble's SIS could offer. He says users need to know what exactly is going on in the soil underneath pivots to optimize water usage. "You don't want to water a section of the crop that doesn't need it or water a part of a field that can't hold it," he explains. With the company's Irrigate IQ solution, which debuted in North America in late April, growers can control the watering rate "of every single nozzle on the pivot, uniquely." The system can also control nutrient application through irrigation lines.