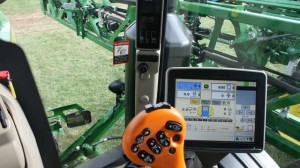 5. In Cab Solutions
Rounding out the Tech Top 5 for 2014 are in-cab solutions. According to Reetz Agronomics' Reetz, many of the recent developments in this area tie directly back to efforts to capture "big data" and improve data management solutions.
"Quality data leads to quality information that translates into reliable decisions," he says. "Communication with on-board sensors, monitors and controllers is a critical link. When all the components in the system can communicate reliably and speak the same language, you are off to a much better start."
Reetz adds that manufacturers have been making good progress in developing such systems for the industry's equipment cabs. Furthermore, he expects more advances to appear during 2015 and beyond as new technologies are streamlined.
"Data loggers that collect data from all components and 'send it to the cloud' offer some interesting options," says Reetz. "Those data can be shared with various advisers and service providers that can access the data and help move toward the decision phase, as well as documenting field activities for future reference. The human element and associated possibilities for error are greatly reduced in such systems."