Since precision agriculture burst onto the agricultural landscape back in the mid-1990s, the one constant has been simple — nothing remains constant year after year. Invariably, some new technology or advancement in hardware/software has come along and displaced (or at least overshadowed) what had previously been hot.
For evidence of this phenomenon, you need look no further than PrecisionAg magazine's annual listing of the top five precision agriculture technologies. When our magazine has compiled the Tech Top 5 each year, there usually are one or two recently introduced technologies that have made the listing.
Until this year, that is.
Once the comments from our precision agriculture insiders were tabulated for 2014, the Tech Top 5 was identical to the one we published in our 2013 Fall edition. What's different, however, is the order of importance for each of these technologies.
As for why this might be the case, there seems to be two schools of thought, according to our market watchers — one negative, the other positive. On the negative side, some precision agriculture experts feel that the recent slowdown in the amount of money flowing into the agricultural market could be playing a factor in this lack of change.
"I believe another factor this year is lower commodity prices," says Sid Parks, manager of precision farming for GROWMARK, Bloomington, IL. "This will negatively impact growers' bottom lines and farm income, affecting their willingness to pay for new services and technologies. This will become more of a challenge for service providers to promote, although that is often where the growers will most benefit from this investment."
[Related: Top 5 Precision Agriculture Technologies For 2015: Data's Day]
On the positive side, however, other market analysts believe the reason the top five precision agriculture technologies have remained unchanged between 2013 and today has more to do with how effective (and profitable) they've proven to be over the past year.
"These five top tech trends have incredible synergy," says Jeremy Wilson, technology specialist for Crop IMS, Effingham, IL. "As each of these technologies continue to develop over the next few years, the opportunities for growers to increase production and be better stewards of land will abound."
No matter which explanation is best, the bottom line is these five precision agriculture technologies lead the pack in industry buzz and grower-customer usage for 2014. So, without further delay, here are this year's Tech Top 5, ranked one to five!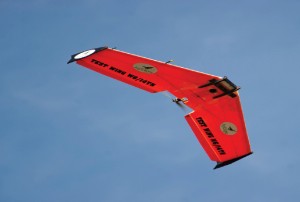 1. Unmanned Aerial Vehicles (UAVS)
Last year's No. 5 precision agriculture technology took a huge jump in 2014 to No. 1, which probably comes as a surprise to no one who's regularly followed the marketplace the past 12 months. Since coming into their own a few years ago, unmanned aerial vehicles (UAVs) have been the most talked about, reported on and in-the-field discussed technology on the planet. In fact, speaking of trade shows, not only were UAV companies some of the most common fixtures at this year's InfoAg Conference in mid-July, but whole trade show events were devoted exclusively to these flying technology marvels.
"UAV use on the farm continues to be a popular subject," observes Harold Reetz, president of Reetz Agronomics, LLC, Monticello, IL. "Experience with using UAVs is showing some real opportunities. They can reduce the time and expense of scouting fields for determining crop conditions, and especially for documenting the extent and locations of serious crop problems that need to be addressed with 'boots on the ground.'"
Tim Norris, manager of Ag Info Tech, LLC, Gambier, OH, agrees. "This technology shows a lot of promise in my opinion," says Norris. "The ability to see your fields from the aerial perspective in real time is monumental. The resolution of the images is much greater with a UAV vs. satellite as well. We can see old tire tracks from a previous operation and row-by-row problems with our planter. The crop diagnostic potential with these systems is just starting to get figured out."
According to Reetz, the fact that UAVs have received so much attention is a testament to their potential, given the fact that Federal Aviation Administration (FAA) rules prohibit their use. "FFA's delays in addressing regulatory questions is slowing progress, but not affecting interest," he says.
While agriculture waits for FAA to finalize its regulations regarding UAV usage, Reetz says this is giving manufacturers of these products to improve not only the reliability of their equipment but the software that helps guide them as well.
Still, not everyone PrecisionAg talked with held UAV potential in such high regard. "While UAVs are getting a lot of attention, I'm less optimistic they will provide commercially viable solutions in the next year," says Sid Parks, manager of precision farming for GROWMARK, Bloomington, IL. "Lots of people will enter the market space, but the novelty will wear off. Most UAV solutions offer just a picture, and managing the data will be a challenge."