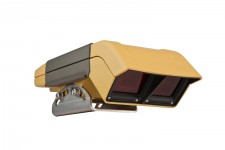 More than four years in the making, CropSpec is a collaborative effort between Topcon and Yara, the century-old, Europe-based fertilizer manufacturer that currently leads the world in fertilizer sales. Topcon's Mike Gomes says that the collaboration has brought together his company's expertise in optical sensors with Yara's four decades of research on nitrogen uptake to create a truly unique sensor product.
The sensor itself utilizes laser technology developed by Topcon that provide wider coverage using a single sensor. Rather than requiring several sensors to be mounted across a boom section to scan a field, two sensors — one mounted on each side of the cab — are able to provide sensor coverage.
The CropSpec can be used in three operational modes. It can read and record data, allowing the user to analyze the results and build prescriptions. Second, using two point calibration the user can set high and low points and do on-the-go application using field averaging. Or, using Yara algorithms, true on-the-go nitrogen application can be made in real time using crop-specific algorithms.
The CropSpec is being offered on a very limited basis this fall, with a broader release expected in 2010. For more information, visit www.topconpa.com.