By its nature, the precision agricultural marketplace features myriad products and services. From hardware options to attach to Big IRON to software programs that continuously crunch numbers to find useful patterns/make yield recommendations, the host of offerings is seemingly endless.
In part because of this characteristic, PrecisionAg magazine several years ago decided to put together an annual listing of the five most talked about/active categories that fall within the realm of precision agriculture. This Tech Top 5 has included all kinds of products, such as yield monitors and variable-rate seeding units, as well as services such as general data collection using handheld computers and, more recently, tablet devices. In this sense, the 2015 listing is no different.
However, according to Jeremy Wilson, technology specialist for Crop IMS, Effingham, IL, a closer inspection of the 2015 Tech Top 5 reveals something more at work — a common thread binding all these myriad segments together in one sense.
"I really think the entire list of five should just be data," says Wilson. "Today, it seems that 65% or more of the precision agricultural industry is working on something related to data. The 2014 list showcased items that created data or used data to accomplish a desired task, but this year, the trend seems to be more about how we use this data to be more successful in production agriculture. Growers and service providers are beginning to understand the value of data and its importance to improving the productivity and profitability to a farm or business. All this will eventually beg the question of how matters relating to data usage and privacy should become a consideration."
To illustrate this point, we proudly present the Tech Top 5 for 2015. To heighten the suspense a bit, we've listed these in reverse order, from No. 5 to No. 1 (and on separate pages).
No. 5: Unmanned Aerial Vehicles (UAVs)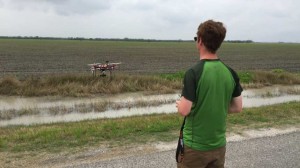 To readers who remember how talked about unmanned aerial vehicles (UAVs) have been in precision agricultural circles the past few years, it might seem odd that this segment of the market would rank so far down on the list of top precision agriculture technologies. After all, anyone who attended this past year's annual Commodity Classic or InfoAg Conference events was likely to find dozens of manufacturers displaying UAVs targeting agricultural use. In fact, there were even a few events held during 2015 that featured nothing but UAV companies on their exhibitor lists.
Despite these facts, Wilson says UAVs barely made his list of the year's top technologies for precision agriculture. "The UAV business is still on my list for 2015, but the interest level is not what we have seen the past couple of years," he says. "With the current set of Federal Aviation Administration (FAA) rules for UAV use in place, the market is in need of a little time to mature and bring customer adoption of this technology."
Tim Norris, manager of Ag Info Tech, LLC, Gambier, OH, agrees with this assessment of UAVs. "In my opinion, UAVs took a step backwards this year vs. last year," says Norris. "In 2014, the laws regarding the use of UAVs seemed vague and it was believed that a grower could fly their own field legally as long as they followed the rules and guidelines for the recreational user. However, at the end of last year, the FAA made it clear that this was not the case."
According to most industry insiders, FAA is expected to have its final UAV operating guidelines in place within the next 10 months or sooner, so many of the questions surrounding UAV usage by agriculture should be answered. In the meantime, says Crop IMS' Wilson, early adopters of UAV technology can continue to "work out the kinks" in their field use while improving their ability to better utilize data.
"Image processing seems to be a hurdle that is being overcome," he says. "But more advancement in this area should increase growth of the UAV technologies."