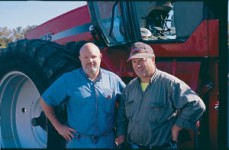 Tim Norris has covered a pretty wide waterfront since we first visited him three years ago. At the time, Norris was toiling away at a central Ohio cooperative, trying to get a precision agriculture program off the ground. By early the next year, Norris had decided to break out on his own as an independent precision technology consultant and form his own company, Agronomic Information Technology.
Norris had a lot of ideas about precision programs and technology and what could be done with them, and going it alone, while risky, afforded him the opportunity to take it to the limit. One of these big ideas was constructing a real-time kinematic (RTK) global positioning signal (GPS) tower network in central Ohio.
It was an idea that first struck him back at the cooperative when the technology was still in its relative infancy. But as an Ag Leader master service dealer and Trimble authorized dealer, Norris saw the emerging potential benefits of the newly emerging GPS steering technology. Once on his own, he was free to float the idea to grower clients and local ag businesses.
When we talked to him last year, Norris had already signed on partners and was working on getting the RTK network up and running under a partnership organization called CORN Inc., short for Central Ohio RTK Network. CORN today is one of a half-dozen subscription-based RTK networks built out on the flat farmland from central Ohio west to the Indiana border and north into southern Michigan.
In about a year's time, the group has constructed seven RTK towers and installed several repeaters to extend and strengthen the signal within its coverage area. And there are plans on the board to expand this by two additional sites to cover more territory east and south of the current coverage area.
Growing CORN
The months prior to the formation of CORN Inc. were a period of networking and salesmanship by Norris. Through discussions with growers and businesses he knew well, he was able to assemble enough interest to hold an open meeting to discuss the opportunities and benefits of creating an RTK network.
Included in the meeting were the four groups that would eventually sign on, including three growers and an equipment dealership. Growers Fred and Tom Miller, already familiar with Trimble systems through their own equipment experiences, didn't want to have to keep moving their base stations around to cover all their field areas, says Norris.
Growers Bob and Jim Case were using Omnistar HP for its high accuracy for automatic steering, and while it worked well most of the time, the signal had a tendency to get cut off in treed areas between fields and at the end of some rows, then take 20 minutes to reconverge.
"They could still use the automatic steering on VBS, but when the HP eventually reconverged they would notice a little shift," says Norris. "That's just not acceptable when your main reason for using it is strip-till."
Linder Farms, another CORN partner, wasn't doing anything with Norris in particular, but was familiar with John Deere's GreenStar signal and knew they wanted more accuracy for strip-till.
The final partner, Burkhart Farm Equipment, is a leading Case IH dealer in Bucyrus. "Ron and Chuck Burkhart put a base station up to help all these guys in the network who are also customers of theirs," says Norris. It is also leading to sales of Case IH equipment and Trimble automatic steering systems. Case IH equipment supports Trimble guidance, giving both Burkhart and Norris something to talk to local growers about. "Since you can order Case equipment Autosteer-ready for Trimble, it was a natural for them — and of course, my interest is in selling more Trimble equipment."
The entity CORN Inc. doesn't actually own anything."CORN just supplies a signal," says Norris. "Base stations are owned individually by the partners and leased to CORN Inc. We have agreements with the owners of all the base stations to provide a signal for a period of years, then we'll renegotiate when term is up — this way, if it ends up not being a success, each partner still owns its own equipment."
Details, Details
Getting the entities to agree to partner on the system was the first big challenge. The second was gathering all the information needed to set up the system.
"We started by collecting the field boundaries of everyone we knew that was going to be on the network, and determined where the signal boundaries should fall," says Norris. "Then we did a site survey to see what kinds of structures were out there such as grain storage bins." While one of the growers did actually build their tower from scratch, for the most part it's not cost-effective to build a structure to hold the RTK antenna from scratch. "The structure could easily end up costing as much or more than the base station."
Once the antenna is up, each of the partners is responsible for the maintenance and upkeep of their individual antenna and repeaters, and each partner has at least one of each. If a partner's area requires more than one repeater, they are responsible for the additional hardware as well. "I would generally be the one to make any repairs on the system, but financially it is ultimately their responsibility," Norris notes.
With the system now up and running, growers within the service area can now purchase a subscription from any of the partners. "Basically, we take a contract out to a grower to sign that contains their radio serial number, and that number is entered into the base station they will operate from," says Norris. This acts as a password allowing the user exclusive access to the RTK signal.
The subscription money goes into CORN Inc., and all money collected through year's end is either distributed to the partners, or reinvested into expansion and/or maintenance of the system as decided by vote of the partners.
Working It Out
As far as the system itself, this first season of being up and running has been a period of trial and error for its users. Each of the six towers is owned by one of the CORN partners, who make up a diverse group of progressive people in central Ohio agriculture.
For example, four of the grower partners, Bob Case, Jim Case, Miller Farms, and Linder Farms, are using RTK to do true, high-accuracy strip-tillage this season. The yield results aren't in yet, but Tom Miller is sold on its benefits.
"I really can't imagine trying to do this anymore without the RTK steering," Miller says. In addition to the steering package, the Millers upgraded to all new Case IH tractors, including an STX325, an STX500, and an MX285. The new fleet provides a horsepower boost that, coupled with the RTK steering, increases efficiency and accuracy and is expected to make strip-till really shine once the harvest is in and counted.
Linder Farms is also interested in maximizing the benefits of strip-tillage. This season Linder stripped all its corn plantings and is beginning the data collection process that will hopefully lead to higher yields and improved profitability.
Still, Norris says it's the improved efficiency and reduced fatigue that users keep talking about.
Editor's note: This article first appeared in the Winter 2006 issue of PrecisionAg Special Reports.