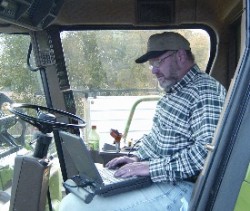 For Tim Norris, it seems like a perfectly logical progression.
When we first visited Norris in the fall of 2003, he was heading up a precision consulting division of an Ohio cooperative, helping grower-clients of the company discover the benefits of high-technology agriculture. At the same time, he himself was discovering the potential of automatic steering as an efficiency building tool on the Miller Farm, a particularly ambitious operation run by brothers Fred and Tom Miller.
After switching to Trimble's Autopilot system and spending a year working with the high-accuracy real-time kinematic (RTK) steering system, and doing some career soul-searching, Norris decided two things — to strike out on his own as a consulting company, and to delve deeper into the business possibilities of automatic steering.
The result was a very busy 2005 for Norris. He first formed his new consulting company called Agronomic Information Technologies, or AgInfoTech, in May.
"I really wanted to be totally focused on and devoted to precision agriculture," says Norris. "At the branch, you are always getting pulled away from what your area is — it's the nature of ag. I wanted to spend more time doing what I needed to do and I was often getting interrupted. Now I can focus, react quickly to customers, and look at new ideas that I never could at the co-op."
Norris is an Ag Leader master service dealer, as well as a dealer for the Trimble Autopilot system, both of which came with him from Central Ohio Farmers Co-op, his former employer. His current client list includes a number of progressive growers he works with directly. He also is contracted with retailer Morral Companies to provide them with precision agriculture services and products, and provides consulting for Town and Country Co-op where he works with sales people and acts as the go-to precision guy.
AgInfoTech utilizes SST's Summit and Stratus products for field data collection, and data management. Shape files are exported to MapShots' EASiSuite. "The batch functions are pretty powerful," says Norris. "It seems to be speeding up my data processing time. Another nice feature is I can export maps in PDF format, allowing growers to electronically view fields more easily."
Tower Of Power
Starting a consulting business was one thing, but just three months later Norris embarked on yet another new endeavor. Believing that more growers would get involved in RTK steering if given a simpler and more cost-effective adoption path, he formed a new corporation to develop an RTK tower network.
Called Central Ohio RTK Network Inc., or C.O.R.N., Norris and seven member-owners are investing in the construction of a seven-tower network that will cover parts of five counties just north of Columbus.
It took a team effort to get the project off the ground. Norris relied heavily on the regional Trimble distributor, Daugherty Companies, to determine the best set-up for the towers. Meanwhile, Norris worked to get the participating investors on board.
"Ownership in the company is based on the amount you put in," says Norris. "One person might do two bases, and another person a repeater depending on what is needed at that location. And once it is up and running, they will be able to share equipment. So as they travel into another person's area, they can share that base."
From start to finish the network will be completed relatively quickly — two towers are already up, two more were expected to be completed by the end of October, and all seven towers were to be up by Thanksgiving. Then, with all the bases up and running, the signals are sent out and the search for signal dead spots will ensue. Where fill-in signals are needed, repeaters are added to strengthen the signal.
One factor immediately on Norris' side is the local terrain. The service area anticipated when all is said and done is largely flat. "It would be a lot more difficult to move this system east of where we are now," says Norris. "This is probably as far as we can go out and still be cost effective."
Once things are up and running, the next step will be offering and marketing subscriptions to locals in the coverage area. They are still deciding on pricing and terms, but expect the cost to run from $1,500 to $2,000 per year annually, depending on terms. "If someone commits to more than one year or multiple vehicles, the price would go down," says Norris.
Editor's note: This article first appeared in the Winter 2005 issue of PrecisionAg Special Reports.