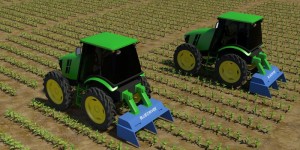 For all the strides forward agriculture has taken on the automation front, there are still plenty of tasks that require a disproportionate level of manpower to get done. For plant breeders, one of the biggest manpower pain points is the evaluation of field trials.
Not only is it intensive work for individuals, ratings such as greenness and vigor are subject to the bias of the individual, and different trial plots are most often evaluated by different teams of individuals, creating the potential for wide differences in plant and stand evaluation.
Given the advancements in sensors and robotics across industries, including agriculture, the technological solution to this conundrum was a matter of applying the necessary time, resources, and know-how. Blue River Technology, a four-year old company led by former Trimble executive Jorge Heraud, has done just that over the past 18 months. The result, a plant and plot evaluation tool called Zea, is poised to not only streamline field trial data analysis, but provide a way to capture and preserve data in a way that was never before possible.
As a tech company in agriculture, Blue River cut its teeth in the vegetable market. The robotic thinning technology developed for use in lettuce, California's No. 1 crop, moved swiftly from concept in 2011 to full release in 2013, and helped it earn additional funding from Khosla Ventures.
The LettuceBot, as it is now branded, can evaluate and act upon 1.5 million plants per hour. This level of speed and efficiency got the team to thinking about how to apply Blue River's computer vision technology to the Midwest, so they turned their attention to plant breeding, particularly corn.
"One of the biggest bottlenecks for plant breeders in the Midwest is to be able to understand plants at an individual level across thousands of acres," says Matthew Thompson, a plant physiologist and Zea's business lead. Thompson spent much of the 2014 growing season in the Midwest in corn trials, gaining an understanding of the needs of plant breeders "For corn, the biggest need indicated was getting good data at an early stage, basically up to V5," he notes.
With millions of test plots in the Midwest, all being evaluated manually, an automated solution is the dream of virtually all breeders.
Zea uses a 3-D optical reconstruction method to collect data, not only of the individual plants, but also of the plot as a whole. The computer vision hardware is mounted on a hooded toolbar, and the unit collects the data behind a tractor pulled at 2 to 3 miles per hour.
"We can provide data to breeders such as stand count, plant spacing, and uniformity in plant size and color, within and between plots and across field stations," says Thompson. The current system can measure two rows at a time, but future toolbars will likely increase to eight rows.
The Zea platform will roll out this June as a service on select acres, but in the next few years the actual unit will be available for purchase. For more information, contact Matthew Thompson via email at [email protected].