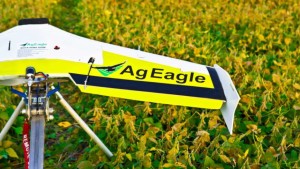 A group of students in Kansas are pairing with some of the state's farmers on a precision agriculture project that will use UAS to capture crop images, reports Ann Bailey of UAS Magazine.
AgEagle Aerial Systems of Kansas and Nebraska sold an AgEagle Rapid UAS to the Southeast Kansas Education Service Center. The center, commonly known as Greenbush, provides leadership and educational opportunities to people of all ages.
"The school is physically near our home base and we wanted to support their initiative and get involved," said Bret Chilcott, AgEagle Aerial Systems founder and CEO. The AgEagle Rapid UAS the students will operate processes images while the unmanned aircraft is flying so by the time it lands, the images are assembled, Chilcott said.
As many as 12 students from each of the southeast Kansas school districts of Eric-Galesburg, Girard and Labette County will work with farmers on the Greenbush precision agriculture project UAS project.