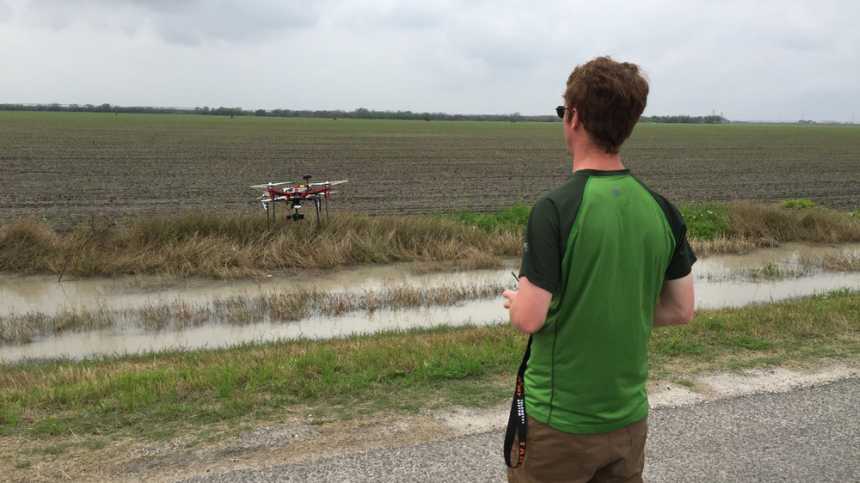 For a grower or agronomist looking to implement aerial imagery into their precision ag repertoire there are three options — unmanned aerial vehicles (UAVs), manned aircraft and satellite — and all three have their respective fit.
Boulder, CO-based UAV service provider Agribotix, purveyors of the "Bring Your Own Drone" approach in precision agriculture, have an imagery product in development that could prove particularly useful next spring and beyond.
Thomas Harris, vice president of products and data services, says the company's imagery-powered corn stand count product, currently in beta testing with a handful of U.S. growers, has shown vast potential in helping growers evaluate early season stand counts.
"The ability to image stand count across the entire field is really desirable," says Harris. "Two of the biggest areas where these growers are seeing the benefits are immediately after extreme weather events such as frost or flooding, since those are the two primary weather events that can impact early germination and emergence."
Harris says analysis of the imagery can help a grower drive management decisions on replants, confirmation of planter performance (hits/skips) and whether plant population goals have been achieved.
Having imaged fields of all different sizes and shapes — from a large acre corn grower along Colorado's Front Range to much smaller fields in the Southeastern U.S. — Harris explains that the corn stand count product is powered by computer vision, machine learning and machine vision algorithms, all developed specifically for corn.
One of the biggest challenges Agribotix has encountered thus far during the beta period is making sure growers submit quality imagery data, according to Harris.
"It's really critical that the flights are dialed-in to very specific parameters, and some of those parameters are significantly different from what guys using drones for precision ag are probably used to," he explains. "For example, a normal precision ag approach says fly the entire field at around 100 meters altitude and take a lot of images that overlap, because that's the best way to get images for a stitched together ortho mosaic.
"With this stand count approach we are not needing to stitch images, so we say fly low (between 10 to 20 meters) and take lots of samples across the field, not necessarily ones that overlap," he continues. "Of course, you still have to be mindful of things like shadowing and cloud cover that can affect the image quality."
Harris adds that the best time to fly for stand count emergence analysis is just after emergence at the V1 or V2 growth stage "because our algorithms are tuned for that growth cycle," and it's optimal to have as little canopy closure as possible so that the algorithms can identify corn plants from adjacent weeds.
"Right now, our primary focus is stand count in corn," he says. "We're not as focused on weed identification or weed mapping currently but that is something we'll definitely take a long look at down the road."
After beta testing is complete, the product should be ready for a full commercial launch in time for the 2016 planting season. After that Agribotix will shift its attention to early stand evaluation of other crops, such as soybeans, where early season stand is often cited as the number one factor in yield.
"We've had some requests for different crops like millet, soy and wheat, and we believe there are lots of applications out there for these algorithms," Harris says. "Once we get the system good-to-go in corn we'll start working on those additional crops."
Satellite Provider
Satshot President/CEO Lanny Faleide says his company is seeing the agriculture imagery market "moving heavily into actionable imagery" as the 2015 growing season inches toward fall harvest.
Faleide's team tasks satellites from RapidEye and Spot Image that image 400 million acres in the U.S. and Canada about twice a month at five meter resolution, he says, and Satshot then makes that imagery available either via a one-off purchase from its Website or a yearly subscription plan. Growers or agronomists that sign up for the subscription service receive a push email notification analysis on their mobile device every time their field is imaged.
"These satellites shoot massive amounts of land so chances are they get every single field for growers in the U.S. at least three to four times per season," says Faleide. "They operate on such a large scale (compared to UAVs)."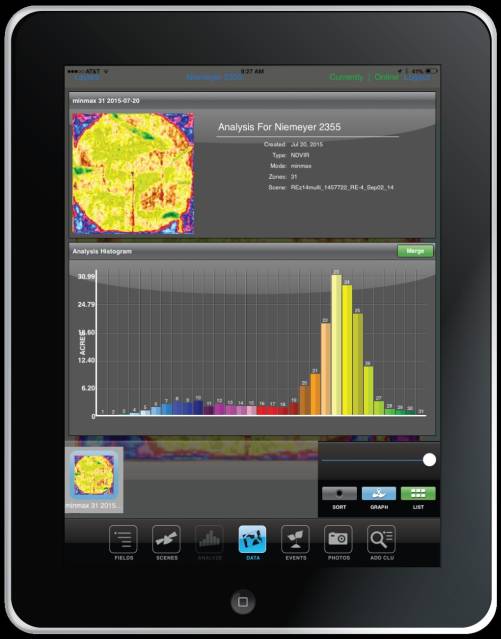 Currently underway at Satshot — with hopes for mass adoption by 2016 — is a pilot project on using in-season satellite imagery for variable-rating (VR) fungicide applications throughout the season.
According to Faleide, Normalized Difference Vegetation Indexes (NDVI) shot twice per month in season can quantify plant biomass (or vegetation thickness) and by using Satshot's tools a user can create a VR map that is pushed directly to the applicator's cab prior to entering the field.
"We can see thick and thin stands (in the analyzed image) and we know that agronomically-speaking you don't have to put on as much fungicide where you already have thick stands," explains Faleide. "We've had about 30% to 40% customer buy in with that program and so far they're seeing about a 16% to 30% per-acre reduction in fungicide cost."
Satshot, who has also been working closely with Planet Labs to use some of its private satellites, believes the industry is moving more toward daily imagery coverage, according to Faleide. Most satellite imagery programs in the industry currently provide an image about once every two to three weeks.
"Imagery is all about how often you can repeat it, and the more satellites that continue to go up there are more chances at getting good imagery," he says. "Having been in this business for 21 years now, we were hoping for daily imagery by 2015 but the technology just isn't there yet. We'll get closer to it in 2016, and I think by the year 2020 the idea of a field being shot everyday will be pretty commonplace."
Aircraft Imagery
Geovantage, an aerial imagery company that operates across a 25-plus state network with a fleet of manned aircraft equipped with various sensors and imaging equipment, is working on Application Program Interfaces (API) with large farm management software packages that allow growers or agronomists to order imagery on-demand that is then delivered back through the API to their respective software package.
"We're working with SST, MapShots, Beck's FARM­Server, AgJunction and Ag Solver, to name a few, and we're communicating with every other major software provider," says Matt Sweeney, Geovantage's business development manager, agriculture. "Growers are already using these software packages so the goal for us is for the end user's experience to be 100% comfortable within the platform they are using."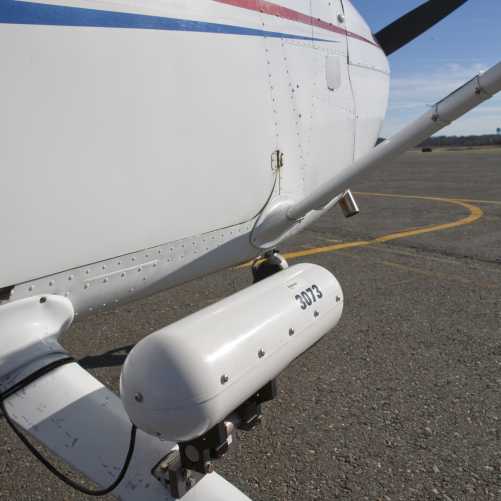 One of the differentiation points Geovantage likes to tout is its logistical footprint across the U.S., which Co-Owner Matt Herring says is a somewhat revolutionary approach to aerial imagery.
"On any given day we have 20-plus planes in the air, giving us the capability of offering wide coverage for farmers everywhere, and it also allows us to capture imagery in the precise window that the farmer wants it done," says Herring. "We also have a fully automated back end system to process and deliver the imagery quickly so we typically have a 48-hour turnaround time."
Three areas in which Geovantage is seeing increased use of its imagery is in nitrogen (N) application confirmation, mid-season weed, insect and disease pressure detection and irrigation efficiency confirmation and monitoring.
"With N, we can see application issues, as well as certain areas of the field with deficiencies at certain times of the year," says Sweeney. "Our imagery product calculates NDVI and provides a guided approach for crop scouting programs where agronomists can see potential problem areas on the map and send scouts directly to that area of the field to quantify.
"Irrigation-wise we can look at the timing of application: Are we applying enough water or do we need to apply more often?" asks Sweeney. "And you can monitor the maintenance and efficiency of the irrigation equipment and identify areas where customers can make some in-season adjustments for better yield."
Herring says that the company is also working toward bringing to market the next big thing in ag imagery.
"We are building the next generation of camera systems too, and we are hoping to have them ready to go — soon," he says.