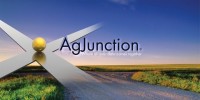 Hemisphere GPS announced new weather features available in AgJunction, its precision agriculture data services platform. Through the advanced weather data service of Weather Decision Technologies, Inc. (WDT), AgJunction customers have more insight and convenience into making weather-related decisions.
Fast, reliable and quality weather data is imperative in today's fast paced world of logistics. To satisfy this need, AgJunction has now integrated the professional weather data provided by WDT. Agriculture service providers and producers can make the most informed weather-related decisions using precise and accurate weather information. WDT data includes high resolution weather map overlays including current radar for the U.S. and Canada, one hour and 24 hour precipitation totals, current wind speed, temperature and dew point. AgJunction has also integrated WDT's current conditions, 48 hour and ten day forecasts for any location in the U.S. and Canada. AgJunction will continue to work with WDT in the future to enhance AgJunction weather features as new technologies and products are developed and become available.
"This partnership is a great example of how WDT integrates multiple meteorological disciplines to provide the best solutions possible for AgJunction customers," says WDT President and CEO, Mike Eilts.
"Weather is one of the most important components for agriculture professionals so having access to the best weather technology is critical to reliably coordinating activities," said Jeff Dearborn, General Manager of AgJunction at Hemisphere GPS. "Integrating WDT's precise and timely weather data into AgJunction adds to the list of data intelligence that helps our customers make the best decisions."
The new WDT weather enhancements are available now within AgJunction.
For more information about AgJunction visit www.agjunction.com.