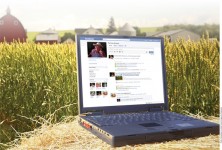 The second presenter on tap for InfoAg 2013's "Social Media For Business" session, Jay Harrison, considers the now-annual conference the perfect setting for his unique mix of social media strategy and text analytics expertise.
"The conference demonstrates the applications of sophisticated, modern technology for improving yield and quality in agriculture," says Harrison. "Even though these advancements are scientifically sound, they can be met with resistance by skeptics. This is especially evident with genetic modification, where concerns expressed about biotechnology have impacted the wider population outside of the agricultural industry. For example, mandatory labeling of GMO foods has appeared on a statewide ballot in California and is now under consideration at the federal level and in 25 states."
Currently the director of data mining for the Innovation and Growth division of Maritz Holdings Inc., St. Louis, MO, Harrison has a strong background in agriculture having grown up on a cotton farm in the Texas Panhandle before attending land-grant institutions Texas A&M, Ohio State and University of Florida. Also having worked at Monsanto, as well as for USDA as an agricultural statistician, Harrison knows first-hand the many of the challenges all aspects of the industry face from the growing blogosphere. 
"Social media has been used by activists, groups and other concerned citizens to share information, spread points of view and organize resistance against genetically modified foods," says Harrison. "In order for farmers to have the freedom to operate with these technological advancements, the voices of the opposition should be considered.
"By identifying the underlying emotions that motivate these individuals to speak and take action, we can address their concerns in a targeted manner. Social media analytics can be used to identify the most pressing topics, the tones of the conversations, the emotions that drive people to act and the resulting impact on the reputation of a technology provider."
According to Harrison, text analytics, or "the combination of statistical reasoning and linguistics to allow summarization and categorization of large amounts of text data" have wide application potential in the agriculture community.
"Text analytics is an emerging field that encompasses several areas of practice," he explains. "This includes search and information retrieval, finding common topics of discussion that share similar terminology, analyzing the interconnectedness of documents on the internet, finding useful bits of information that are concealed within large amounts of text and identifying varying patterns of language originating from different sources."
Be sure to catch Harrison and his presentation Wednesday, July 17, at 12:30 p.m., following the Precision Ag Luncheon in the Exhibit Hall.