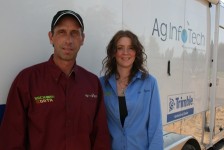 For Tim Norris, CEO of Ag Info Tech LLC, a precision technology and consulting business in Gambier, OH, 2010 was year of healing. The previous year on Thanksgiving weekend, his business burned to the ground, taking all of the computers and virtually every bit of technology inventory he had in storage.
For a brief moment he considered packing it in, but the days after revealed that he had true friends among his clients and associates, and solid relationships with insurance representatives and vendors who were more than willing to help get him restarted in his time of need.
Refreshed, recovered and reloaded, he and his team put the company on an aggressive growth path forward, fueled by capital generated from a newly formed partnership with Town and Country Cooperative. The deal split the ownership of Ag Info Tech 50-50, giving him access to the administrative and financial resources he needed and allowing him to truly consider expansion. This year, it was time for the business to turn the corner.
On the resourcing side, two employees were added in 2011 to fill key roles. Chris Light works in the office a customer relations specialist, managing billing, receiving, customer communication and following up on service calls to ensure satisfaction, all the small things that make a significant difference to the customer experience that in many small offices would go undone, or half done.
Brian George was added as an installation specialist, which Norris says has significantly improved the quality and timeliness of new installations. His methodical approach to installing equipment has been a complement to the fast moving Ag Info Tech team.
The Next Big Thing
New ideas drive innovation, and one of the most important sources of these has been the Precision Ag peer group that Norris joined last year. He and nine other precision-focused consultants and equipment providers gather twice annually to share what's working in their businesses and come up with new approaches to improving their operations.
"We'e all going through the same struggles, such as finding and retaining good employees," says Norris. The finding part is particularly challenging going into this off-season, Ag Info Tech is providing precision products and services to Western Reserve Farm Cooperative in Middlefield, OH, with clients stretching from Canton north to Lake Erie and east to the Pennsylvania border, and the search for a territory manager has become a nine-month odyssey.
Keeping track of inventory is another unsolved issue, and the peer group has provided some success stories. "Personally, I am struggling with inventory management, and a couple of the guys are doing some interesting things. For example, one consultant is using a barcode system, and technicians use their cellphone to scan any piece of equipment that leaves the warehouse. From the phone, the information is collected and centralized to streamline inventory tracking." It's something we are looking into, he says.
While some ideas were put into the under investigation hopper, some were immediately actionable. Based off the success of the consultant Peer Group, Norris formed a grower peer group called the "Back to the Data Club." The concept of growers coming together to share ideas is nothing new, but the creation of a formal group of the most progressive growers seemed to be the best way to proliferate the best thinking and strategies for collecting and managing data.
Norris and his consulting peers discussed the evolution of precision technology and the focus in recent years on efficiency building technologies such as automatic steering and planter clutch control. While important, it served to distract growers from collecting and utilizing data, and turning the data into a decision-making tool.
"Growers have really forgotten about the power of data, and the original reason precision agriculture started," says Norris. "We're trying to return precision back to its roots, and growers are interested. They've already invested in GPS and controller technology, and they want to know what else they can do with it."
To make it an effective and efficient program, the group was limited to 10 members. Attention was paid to ensuring there was a healthy mix of personalities and experiences in the club to facilitate positive discussion. Prior to the first meeting, the members had to answers a set of questions that would serve as profile information about the farm operation, and what they perceived as their biggest challenges related to data collection and use.
The group meets twice a year, and meetings are highly structured to ensure full participation and maximum value. During the meeting, growers are asked to come up with three actionable goals that they would report on to the full group at the next meeting, creating accountability.
Another idea to come out of the consulting peer group was the concept of "market yourself first." In the eye of the customers, Norris had historically emphasized its affiliation with its key vendors, namely Ag Leader and Trimble. This year he made a significant investment in developing the identity of Ag Info Tech by developing an information package designed around the company logo, and fitting the entire team with Ag Info Tech embroidered logos.
Finally, Ag Info Tech created a service plan option for growers to purchase to rein in the number of service calls being received during peak seasons. Growers who purchase the service plan receive unlimited tech support, in addition to spring and fall equipment checkups to update firmware and get things set for planting and harvest. Growers who do not purchase the service plan pay an hourly rate for calls made that exceed 10 minutes.
Norris admits that the fee is barely enough to cover three service calls, but having it in place has reduced the number of relatively unnecessary calls.
This past year, Ag Info Tech added or explored a number of technologies and practices to help growers explore the improvement of yield and efficiency.
Exploring New Techniques
Drainage Tile Layout. Using new capabilities from Farm Works Surface Software, Ag Info Tech is designing drain tile installations for grower-customers. For DIY customers, Norris can use the program, using a Trimble FmX to do the surveying, to create a georeferenced map that can be exported and used by the growers to install tile.
Imagery. Ag Info Tech is offering NDVI aerial imagery to growers to provide insight into in-field pest and fertility issues in season, and expected yield at pre-harvest. Pre-harvest mapping is proving to be a very accurate harbinger of yield, in some cases providing a more accurate indication of yield than the actual yield map, says Norris. It can also reveal machine problems, such as malfunctioning planters, by pointing out areas of low or no vegetation. "We've had maps show clear as day where a planter clutch got stuck, and you'll see a streak of red on the map that should be green," says Norris.
With an expanding sales territory and an ever broadening menu of services, next year's visit to Knox County should be fascinating.