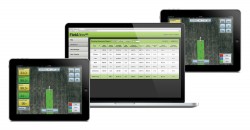 The new FieldView Plus service from Precision Planting allows producers to sync data between multiple planters, combines, computers and additional iPads. In addition, it provides safe and secure file back-up.
"Using Amazon Web Services (AWS), we built the PrecisionCloud that connects all of your iPads, SeedSense displays and planters to the cloud," says Doug Sauder, Product Manager. "This makes it simple for users to sync their information across multiple iPads, to share it with their partners, to store it securely, and to see and understand its implications across their entire operation."
FieldView Plus makes it easy to share coverage files between tractors. It transfers FieldScripts and allows fast downloads of 20/20 files to a desktop computer or to share with partners. FieldView Plus also automatically backs up the user's 20/20 and FieldView data.
For operations where more than one person needs access to information, FieldView Plus automatically syncs field pins, field map data and client farm field lists so that data is the same on every device, anywhere.
"FieldView Plus provides growers with new decision making tools for use in the cab, office or in the field," Sauder says. "This app and Website lets you see all your fields and field pins on a map of your entire operation. A unique dashboard delivers statistics on planter and combine performance and reports by field, planter and hybrid." This, he emphasizes, makes it easy to compare, analyze and improve results.
In 2013, FieldView Plus will be a no-cost option for Precision Planting's FieldView and SeedSense users. Full release is planned for the 2014 planting season as a subscription-based service.