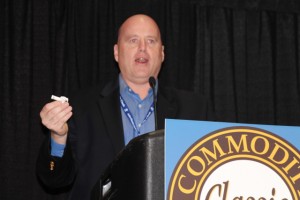 Fresh off what one can imagine was a whirlwind five months that saw The Climate Corp. picked up by global biotech giant Monsanto Co., and the recent Climate Corp. acquisition of soil analysis player Solum Inc., Climate Corp.'s Anthony Osborne, vice president of marketing, fielded questions about the new outfit's intentions at the recently wrapped up 2014 Commodity Classic in San Antonio, TX.
Here are a few highlights from the press briefing:
Climate Corp. Will Be The Face Of Monsanto's Precision Agronomy Efforts
Going forward, Osborne announced the intention to bring the Integrated Farming Systems (IFS) platform and the Precision Planting brand all under The Climate Corp. brand umbrella. "With that change we intend to create the industry-leading platform for hardware, for software and the use of data and science as tools (in agriculture)," he said.
Targeting Data
Having made the statement that Climate Corp. plans to be at "the forefront of the data revolution in agriculture," Osborne outlined how the company views data. "First and foremost, we believe that the data a farmer creates belongs to them, and they should be free to manage that data in any way they see fit," Osborne explained. "We also believe that data storage should be free of charge (to customers on our platform), and we're also going to enable the free-flow of data across other platforms in our own tools, as well as other provider's tools."
Open Ag Data Alliance (OADA) Looking For Leadership
"We don't feel like we should be leading it," answered Osborne when asked to elaborate on the Jan. 31st announcement from Climate Corp. on the forming of the OADA. "So we're going to seek to have someone else take a leadership role, and we hope to have an announcement on that in the coming weeks.
"We're going to welcome all-comers: Grower groups, folks positioned in industry, commodity groups and anyone that has a stake in data being freely exchanged the right way, as well as privacy parameters around that data and the management of data."
So what exactly is the OADA? From Climate Corp.'s Jan. 31, 2014 news release: "The Climate Corporation is forming an Open Agriculture Data Alliance (OADA) of providers and farmers to act as an independent body that will ensure that different platforms share common interoperability, common data formats, and security and privacy standards. Enabling different systems to work together will give farmers more control, and can ultimately help farmers optimize yield, improve conservation practices and improve the profitability of their operations."
Solum Acquisition Brings Next Level Soil Analytics
"To us with Solum, it all starts with the soil, and accuracy, data quality and measurement in soil analytics," said Osborne. "We would anticipate integrating that product into our service offerings at some point in time, although to be candid today we have not quite figured all of the details out. What we are excited about is we believe Solum has some really good, novel technology around quality of soil analysis and, in particular, nitrogen measurement."
Retailers Still A Piece Of The Puzzle
"We're looking to provide value for the grower – how is the most value created for the grower – and it's our belief that more value is created by having the trusted adviser being involved in the process," said Osborne when asked how the company plans to work with retailers. "Within Climate Basic and Climate Pro, there's the ability (at the farmer's control) to allow the retail agronomist access to all of the data, or a small segment of data.
"There's also the ability for the retailer to be able to take pictures, scout fields and communicate with the grower," he continued. "It's our belief that the grower has trusted that retailer for a long time and they're going to continue to need to take full advantage of that relationship. We're not going to tell a farmer what to do on a Tuesday morning at 8:30, that's not the aim. Our aim is to provide information in such a way that a grower and his advisor can make better decisions on their operation and that's how I see it going forward."
IFS To Be Seed Agnostic, Precision Planting Planter Agnostic
Pressed on whether IFS and Monsanto's acquisition of Climate Corp and Solum are simply to get more seed recommendations for Monsanto genetics in front of growers, Osborne characterized the new venture as being "seed agnostic."
"One of the reasons we split Climate Corp. off as a standalone entity and put our precision ag assets underneath it is because we feel these technologies have applications across all seed brands," he said. "At Climate, though our parent company sells DeKalb and Asgrow seed, and we love DeKalb and Asgrow, many of our services will be valuable across all seed brands and I think, even though we own Precision Planting and that's an important part of the delivery of FieldScripts, it would be our intent to make that technology available across a wide range of planters and paint colors.
"If we tried to do anything different, I think we would just be holding technology back from growers."