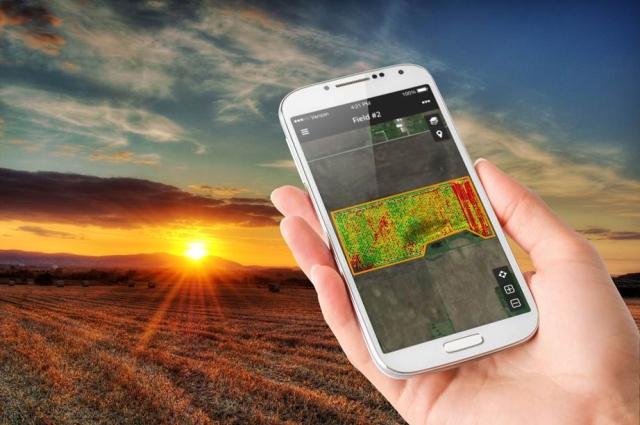 For himself and nine colleagues sharing extensive consumer electronics and mobile technology engineering backgrounds, putting down roots in Chicago for 640 Labs' home base was basically a no-brainer, as vice president of sales and marketing, Pat Dumstorff, tells it.
"We're based in the Midwest because we're a totally farmer-focused company and we feel like location matters," he says. "Agriculture is incredibly underserved right now when it comes to data and cloud solutions, and it's a fascinating industry for us to get into as well."
The relatively-green start-up (founded 2013) hawks a combination of cloud-based, automated data transfer and analytical processing. In a nutshell, the service initiates when a user downloads 640 Labs' free mobile app, then physically plugs the 640 Drive into the electronics diagnostic port on a planter, combine or sprayer and syncs the two via Bluetooth wireless connection. This gives the 640 Drive a link to 640 Labs' Cloud, initiating the exchange of multitudes of various agronomic and equipment data to the cloud.
Data captured by 640 includes GPS data, agronomic data from planters, machine performance data such as torque and fuel flow, and yield and moisture data from the combine. The system also collects advanced data not-traditionally associated with agriculture, such as time and motion efficiency studies, as well as torque on primary tillage, which can provide context on current soil compaction.
"We know there are other comparable services already out," concedes Dumstorff. "But we're gathering data that growers can't get anywhere else, giving users deeper visibility into their farming operations than ever before, and we augment that with our advanced analytics processing."
To further illustrate his point, Dumstorff tells of a tale from spring 2013, when 640 staged its first-ever field trials in Iowa with five growers.
"It's a typical day at 640; we're in the office (in Chicago) and we're watching an operation in Iowa and we start noticing some strange anomalies and irregularities in the yield map data coming off one of the combines. The data is showing these bands of poor yield, exactly 120 feet apart throughout the entire field. So we get in contact with the grower and we ask him how wide his sprayer is, and he says 60 feet, so from that data and with our agronomic knowledge, we could interpret there was a problem with one end of that grower's 60 ft. boom."
The service can also be used for fleet monitoring as it features an online dashboard whereby users can log in to their account with an Internet browser and have "up to the minute visibility" of their farming operations, from anywhere in the world.
Already operating in ten states, as well as abroad in Canada, Brazil and France, 640 anticipates continued growth as the industry embraces Big Data and the cloud.
"It's important to be cloud-based because data now is just too big and too complicated for even the larger, sophisticated grower to handle," says Dumstorff. "The days of using multiple USB thumb drives and running this stuff on the PC in Microsoft Excel are long gone. It's too complex."