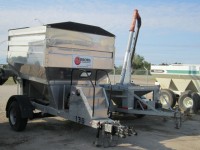 The Aurora Cooperative, a grain marketer and agricultural supplier based in Nebraska and serving America's farmers in multiple states, today announced finalization of its Aurora Agronomy expansions in Texas, South Dakota, and Nebraska.
The Texas expansion involves a seven-location acquisition of Plains Aerial Co., previously owned by Lance Ollinger and headquartered at Olton, TX. Other sites include Cotton Center, Slaton, Tahoka, Lamesa, Groom, and Levelland, TX.
The sites will continue to operate under the Plains Aerial brand, with Ollinger to lead operations at the facilities and assist in the consolidation of these sites with the existing Aurora Ag Aviation, a sub-division of Aurora Agronomy.
The South Dakota expansion involves a three-location acquisition in Mitchell, SD (Big Green Agronomy), Letcher, SD (MJ Aviation), and Elk Point, SD (MJ Aviation). John and Marci O'Connell, previous owners, have agreed to continue leading the management of these sites. The sites will continue to operate under the Big Green and MJ Aviation brands, with the Aurora Ag Aviation and Aurora Agronomy teams providing service and oversight.
Finally, the company has completed the construction of its newest, greenfield Aurora Agronomy retail site in David City, NE. The facility is now fully functional, serving area farmer-owners from the 31-acre site along NE-Hwy 15, north of David City.
"The vision of the Aurora Cooperative is to be financially strong, innovative, independent and a farmer-owned agri-business…now, and for the next generation. We are committed to delivering the finest products, service, and expertise to all farmer-owners in our expanding market area," said George Hohwieler, President and CEO of the Aurora Cooperative.
"In each of these expansions, Aurora's ground and aerial agronomy capabilities are further enhanced. Equally important is selecting businesses that share Aurora's culture and vision," Hohwieler said. "John, Marci, Lance, and the David City team share our approach of building long-term relationships with our farmer-owners. Aurora's continued growth will be built upon these time-honored principles."