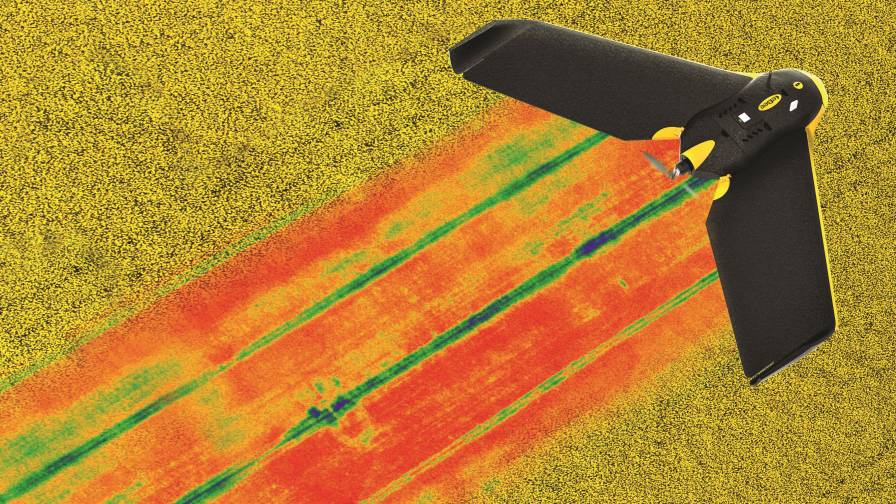 Parrot, the French parent company of senseFLY (makers of the eBee Ag UAV), recently released details on its newest sensor payload for the precision ag set, writes Matthew Grassi on CropLife.com.
Sequoia is the Paris-based aviation giant's newest multispectral mini-sensor. It was engineered specifically to fit into the same mount virtually all drones (both multi-rotor and fixed wing) carry for GoPro cameras.
Sequoia records imagery data in four spectral bands (green, red, red-edge, and near infrared) and includes a 16 MP RGB camera as well — basically five cameras in one.
According to Parrot's Yannick Levy, Director of Business Development, the company designed the sensor to make its adoption among agriculture users as streamlined as possible.
"Drones today have been designed to carry GoPro cameras so we wanted to make sure our multispectral fit in that size, so that was very key for us," explains Levy. "We also wanted to use the most standard interfaces for consumer electronics — this is why the sensor has USB connection for both power and data transfer."
Sequoia allows direct imagery download via USB port, or users can connect the sensor to a mobile Wi-Fi network and send images directly to MicaSense's ATLAS, a cloud-based processing and analytics platform for data captured with Sequoia. Sequoia owners who order the sensor through MicaSense receive a one-year subscription to ATLAS Plus.