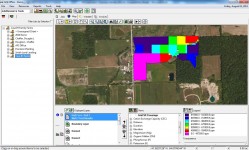 Case IH Advanced Farming Systems (AFS) software is new and improved, offering more functionality and capacity to help producers farm more efficiently. Case IH worked with Farm Works information management solutions to create this industry-leading software, which gives Case IH customers access to a complete range of desktop solutions for their farm operations.
"This software provides Case IH customers with the ability to mark field maps with lagoons, highways or other obstacles; create yield maps to track yields and manage guidance lines; and develop prescriptions based on those yields. And that's just a sampling of what it can do," says Trevor Mecham, Case IH Advanced Farming Systems Marketing Manager.
AFS View now allows producers to view and track their data with a customized list of farms and fields, which can then be shared with precision farming devices for data management. AFS View can also be used to build a list of clients, farms, field names and inputs, such as supplies, equipment and operators.
Data can be received from a wide variety of precision farming devices, and the program can display and print yield maps, as-applied maps, coverage maps and more. The program can create, view and print job summary reports with details on individual jobs and can be upgraded for additional field reporting, accounting and mapping analysis.
The updated AFS Mapping & Records section provides a field record-keeping, mapping and analysis solution to help growers make better management decisions about yield data, soil types, soil test results and hybrids. Using this section of the software, producers can enter field records for restricted-use chemicals, fertilizer applications and equipment maintenance. That data can then be used to generate enterprise statements to track profitability on a field-by-field basis.
The new version of AFS Mapping & Records offers several new features:
Complete field records, including manual record entry
Enterprise costing and statements
Accurate profit-mapping
Map importing that automatically creates job-based field records
Yield reconciliation by field
Crop purchaser delivery tickets reconciled with yield
Radio data system (RDS) yield compatibility
Yara sensor terminal support, including variable-rate application plans
AFS Books integrates all farm financial records for easy product-cost comparisons, enabling producers to make more informed decisions to improve farm profitability. The software can then provide detailed enterprise statements for fields, livestock groups and equipment, allowing producers to easily compare the cost of production for each enterprise.
The software offers an automated inventory tracking process for supplies, planted crops and harvested crops, too. Adjusting accounting entries is quick and simple. An interactive account register allows users to edit transactions while still maintaining a full audit trail. The program easily generates cash reports for taxes, market value and budgets for bankers while maintaining accrual reports for producers' management use.
Finally, AFS Water Control helps producers identify optimal placement of tile and surface drains in both surface and subsurface water management projects. The potential for higher crop yields increases when fields drain properly.
This analysis and design tool combines three-dimensional views and water flow analysis tools to determine where surface ditches or subsurface tile lines should be installed. Drawing tools help producers draw the lines right over topographical field maps on-screen. Users can lay out and design drainage tile by size, pipe type and phase and can then enter the minimum and maximum depth and optimum grade for each. The software also can help determine various watershed zones in fields to assist with main, submain and lateral pipe placement.
For more information, visit your local Case IH dealer or www.caseih.com.