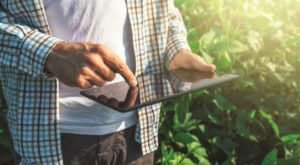 Having the tools to collect data out in the field and communicate agronomic recommendations directly to growers saves time and money. Having the ability to sync all the information in one place and have access to it whether in the office, in the truck, or standing in the field streamlines the flow of information and eliminates redundancy.
Here's what two retailers had to say about why they use SST technology to gather data and make recommendations to their customers.
Crop Quest
Precision Ag Manager Nathan Woydziak says Crop Quest uses most of the SST software suite.
"We offer the precision ag services we consider valuable to our clients' operations," Woydziak says."Crop Quest's core business focuses on providing value to clients through agronomy services. We collect data related to crop planning, farm management, precision ag, and scouting.
"We are better at communicating with our clients because of Sirrus. It doesn't replace the other forms of communication, but it does add a new level. Tools like this connect us as we expand our footprint and help growers across the globe." says Woydziak.
In order for Crop Quest to efficiently deliver value using imagery, it has to be timely, so the company needed an automated way to obtain imagery, a quick way to scout with imagery, a familiar way to recommend action, and a close-to-effortless delivery mechanism. Paramount Imagery paired with SST Sirrus makes all this happen.
"Summit remain the workhorse for our Precision Ag services," Woydziak says. "We continue to use FarmRite through Summit for the automated processing. It's worked well for Crop Quest to be on a platform that bring good data standards. I don't see this changing anytime soon."
MFA Incorporated
Thad Becker, Precision Department Manager at MFA Incorporated, says he uses SST's Summit, Sirrus, The Viewer and Analytics. "We try to use SST for all of our data," he says.
Becker says MFA collects soil samples and scouts using the Sirrus mobile app. They read in As Applied, As Planted and Yield Data into Summit. They also collect EC data and use imagery in SST's software.
"I like the standardized database as well, because it means there is no need for product translation from one grower to the next or even between our stores," Becker says. "I also have a universal equation set I can manage that allows us to have uniform recommendation parameters across the company and allows me to make changes quickly across all users when necessary. We like the ability to be connected and run a uniform corporate program. This gives our customers a uniform experience no matter who they are working with."