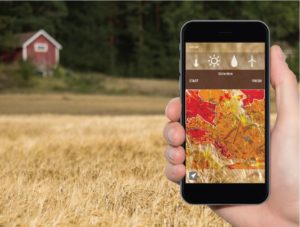 When it comes to planning for fall soil sampling and nutrient application, using data can be invaluable. If you have data collected from previous years, that's a trove of information that can be used for comparison and accurate targeting of nutrients. But even if you have just started collecting data this year, there is still useful information that can help in planning fall agronomic activities.
First and foremost, make sure you have all data prepared ahead of time for whatever services you are offering in the fall, says Scott Cogdill, Director of Agronomy Solutions at Proagrica. That means getting data from the grower as well.
"If they have as-applied data from planting, that's important," Cogdill says. "If they don't have that, get a list of fields with what was planted and where, and what was applied and where. Information about varieties, dates, population, scouting data, and soil sampling data is important to gather at this time. Just make sure you have all pertinent field-level information for the entire analytical output you plan to provide to your customers."
Data Facilitates Advance Preparation
Past soil sampling data helps you make a targeted list of which customers need to have their fields resampled. Even those customers who don't require nutrient management – who are just following a three-to-four-year cycle and are up for a resampling — can be identified so your agronomist can start working with those growers. For customers with nutrient management plans, Cogdill says to make sure you're using the required grid density to keep all those growers in compliance.
"If you're doing a grid resample, make sure you have the existing points and then use them again as targets," Cogdill says. "For zone sampling, make sure you have all data types available and ready to create the zones, so they are in place when the field is ready to sample. The window for soil sampling is very narrow. Make sure you're not waiting on data; have everything ready and in place."
Make sure you have an understanding of all your accounts and that what you are asking the labs to test is consistent and matches up with the attributes you need to execute your recommendations, Cogdill says. A consistent, repeatable process is key.
Making Sense of the Data
Proagrica's Summit application standardizes all this data in one account that is available to multiple end users. The software is designed to minimize repetitive data entry pieces and create a streamlined, repeatable and scalable process.
"For example, a retailer can use Summit to run a soil sample report that provides a list of targeted customers based on previously sampled fields within a certain date range," Cogdill says. "Once the fields are harvested, we can leverage that existing boundary, or even replace it out in the field and use the previous points for resampling.
"This allows us to go back and use existing points so there's consistency from year to year and from sampling event to sampling event.
"An automated report is generated by our system, and it goes with the soil to the lab. The lab scans the report. When the testing is complete, the results are automatically tied to the points on our servers, which feed back into the agronomist-level view. Fertility recommendations can be automatically generated based on those results, or the agronomist can create them manually. Through that process he or she works with the grower to finalize approved recommendations, and they are sent through wireless transfer out to the machine where it will be applied in the field."