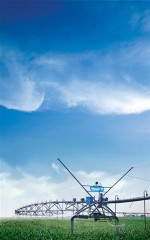 Valley Irrigation introduced GPS guidance for corner irrigation equipment during the 2009 Farm Progress Show in Decatur, IL. This new introduction will allow producers to install corner irrigation equipment where it previously might have been difficult or cost prohibitive to do so — in turn giving them an opportunity to increase the number of acres available for production.
"A lot of producers face a number of challenges that prevent them from installing corner equipment, and we think GPS Guidance for corners will help solve those problems," said Wade Sikkink, equipment product manager for Valley Irrigation. "For example, it could be cost-prohibitive to dig up ground to install underground wire for conventional corner guidance, especially if you have to go through any rock."
Sikkink further explained that forces of nature also can disrupt the steering of corner equipment that operates with underground wires, such as rodents damaging wires or lightning strikes interrupting signals.
Even man-made events can be prohibitive and render ineffective the underground wiring of conventional corner guidance. For example, installation of corner irrigation equipment in areas of high power lines has been known to cause guidance problems and might have been prohibitive in the past. But the new Valley GPS Guidance for corners provides a solution.
Steve Oberg, a potatoes, corn, and soybean grower near Pelican Rapids, N.D. has firsthand knowledge of the problems associated with power lines and the benefits of the Valley GPS Guidance.
One of Oberg's corner machines was installed in 1995 and operated on underground wire until this year. The machine happens to be next to some high voltage transmission lines.
"Those lines started emitting more stray voltage this year. The change in voltage interfered with the antenna on our corner machine so it couldn't steer when it approached the lines," Oberg said. "I talked with the power company and they acknowledged the voltage fluctuations, but they didn't make any immediate changes because it wasn't a threat and I guess I was the only one that asked them to do something about it."
"The only option was to put GPS guidance on the machine. If GPS wasn't available, I'm not sure how we would have been able to steer through that part of the field. Now that it's installed and running, it doesn't get any interference," Oberg said. "In fact, the corner machine has been steering as good, if not better, than it did on the wire."
GPS Guidance for corners is just the latest in Advance Technologies from Valley. GPS Ready control panels were introduced last November and GPS Guidance for linears followed in March.
GPS Guidance for corners features a unique, one-receiver design and is compatible with existing John Deere Starfire RTK corrections. Visit the Valley Irrigation web site for more information.