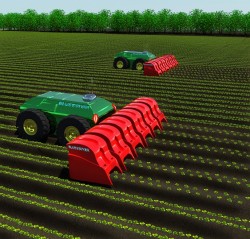 Perspective   I got the chance to catch up with an ag technology friend today, thanks to the power of Facebook. I was on the accursed social media site a couple of weeks ago when I came across a post by one of our sister web sites, GrowingProduce.com. It would have been easier to have actually talked to them and gotten the tip, but in the age of electronics we don't speak as much as we used to.
Anyway, it was a story about a robotic implement that recognizes and kills weeds as it goes through a field. The company behind the idea, Blue River Technology, was co-founded by Jorge Heraud. Jorge spent two decades at Trimble, including 10 years in the agriculture division. Heraud was there through the ag division's rise from relative obscurity as part of Trimble to the prominence it currently enjoys.
He got to see first-hand the rise of guidance followed by automatic steering, and was intimately involved in integrating Trimble's acquisitions such as Farm Works Software (and the development of Connected Farm) and sensor company NTech Industries.
He left Trimble a couple of years ago to pursue an MBA at Stanford, focusing on courses to prepare him for entrepreneurship. Along the way he met an engineering student named Lee Redden, a robotics and computer programming whiz who was pursuing his PhD at Stanford.  From Redden's work and expertise and Heraud's knowledge of agriculture came ideas for technology applications, which led to the development of the robotic weed control system.
The unit is pulled behind a tractor, but instead of using lots of heavy iron and mechanical technology like conventional implements, the system uses electronics, high resolution cameras and advanced software.
"We'll use an advanced camera that will look down at the plants and capture images," says Heraud.  "A computer will then process these images, and using computer vision and machine learning techniques it will decide if a given plant is a crop which we want to keep or a weed which we want to kill."
Since the target is initially on the organic market, the system will spray a certified product such as hot steam or hot organic oil to kill the weed. The recognition technology is something we as an industry have been discussing for years, and it would be pretty remarkable to have a system come on line in the medium term that could actually deliver on the promise. Select lettuce growers who've tested the prototype are sold on it, and their success stories have led to Blue River acquiring venture capital money from Khosla Ventures. That may sound familiar and it should … it is the same company that backed soil testing company Solum.
Heraud says that lettuce is only the beginning, and it won't be too terribly long before you see robotic weeding implements in the Midwest. Given the growing complexity of weed control in commodity crops, and the difficulty of finding labor pretty much everywhere in ag, there could be a significant opportunity.
One last observation … in 2012, Solum and Blue River are two advanced technology companies coming out of work done at Stanford University. Is agriculture a focus in Silicon Valley? Heraud says it may be a bit of coincidence, but it's also indicative of the opportunity that ambitious folks see to make a big splash in agriculture, where the application of really, really high technology has been evasive. Simply put, Silicon Valley puts big brains behind interesting ideas, and when potentially big dollars are at play as in agriculture, amazing things can happen … like that robotic weed control implement you've been dreaming of.
For more information visit the Blue River website.