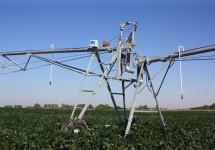 Valley Irrigation, recently introduced the new Valley DropSpan for center pivots, which allows growers to irrigate additional acres with a center pivot by "dropping" spans upon arriving at a large obstruction in a field. This allows the center pivot to continue irrigating.
Scott Ford, a grower from Bertrand, Neb., began farming a field this year that has a grain bin and wind break that obstruct a center pivot from irrigating the entire field. The field was previously irrigated using less efficient, more labor intensive flood irrigation. To conserve resources and still maximize irrigated acres, Ford had a Valley center pivot with a DropSpan installed to reach the area behind the obstructions.
"The DropSpan allowed us to irrigate an additional 23 acres with a center pivot," Ford said. "We like it because in a matter of 15 minutes, we are able to irrigate more efficiently with minimal labor requirements." When Ford's 14-span, 8000 series Valley center pivot reaches the obstructions, four spans are dropped off and his machine continues irrigating, ensuring his soybeans get the water they need.
Valley Irrigation is focused on engineering new products that allow growers to expand their operations. "The Valley DropSpan allows growers to get the most out of the land they already have," states John Kastl, Equipment Product Manager. "The spans can easily be dropped or re-attached by one person without the use of tools."
The Valley DropSpan allows growers to put every possible acre under mechanized irrigation – acres that were never irrigated before, or were irrigated with a less efficient method, can now be picked up with a center pivot.
Valley Irrigation continues to outperform the competition by providing the most extensive product line available to help growers meet their annual goals. In addition to the DropSpan, the Bender160, Bender30, and corner machines from Valley irrigate additional acres for a low investment.
For more information visit www.valleyirrigation.com.