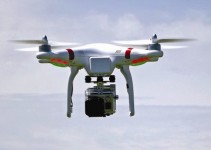 Mitchell Fiene and his cousin Zach are the co-founders of DMZ Market LLC and the creators of the crop scouting Quadcopter. The Quadcopter is essentially a remote controlled miniature helicopter with a built-in camera that is used to scout fields and send data back to farmers. Mitchell got the idea from trying to help his dad with scouting as a child and, in the interest of making the task more efficient, deciding to attach a camera to his toy RC helicopter to fly it over the fields for a better view. Now, the Fiene cousins' Quadcopters are signed with leading retailers throughout the country.
Initially, Mitchell and Zach faced some difficulties in getting Quadcopters on the market. Mitchell is still in college and Zach is a recent graduate with a full-time job. With the two busy cousins doing most of the work on the Quadcopters themselves, they had somewhat of a struggle finding the right retailers, who would be the trendsetting cooperatives that could learn how to use Quadcopters' technology without too much trouble. Mitchell used his connections with Winfield Solutions, the company his father worked for and that he interned for, to help get things moving. Landmark Services, a local cooperative with people that Mitchell and Zach knew, established another connection.
Along similar lines, the Fiene cousins faced the challenge of making sure that their customers were able to understand and use the Quadcopters properly. To ensure this, Mitchell and Zach have the Quadcopter put together for the customer and then give them a tutorial, whereas many other companies that sell similar crop scouting products just send a do-it-yourself kit with paper instructions.
"Somebody can sell you a kit and leave you and you'll be sitting there for three months trying to figure out how to build it," says Mitchell. "A lot of times the project will turn into just a big mess of parts lying around. The idea is: Let's build it for them. Let's show them how to fly it. Let's get them out the day after flight training or even the day of flight training to get some value out of it."
The Quadcopter Up Close
The Quadcopter functions similarly to a smartphone in that it uses a lot of the same technology. It flies at a certain altitude with the ability to capture the entire field in one image, which can promptly be sent to an agronomist to ask which spots require attention. Mitchell described the Quadcopter's scouting process by referring to a system that he calls the "three Ds:" Discovery (capturing the image/film of the field), diagnosis (analyzing the image/film to decide what needs tended to and what does not) and documentation (uploading the image/film and information to the cloud).
The Quadcopters have overall been very well-received by both customers and retailers. Daniel Moehn, senior vice president of agronomy at Landmark, says that the technology itself has value and that it provides better information than many of its competitors.
Customers have made a few other suggestions that Mitchell said were easy fixes, and any other feedback that would be considered negative has been resolved with immediacy. Mitchell stresses that he and Zach do not want their customers sitting around with a malfunctioning Quadcopter or with confusion on operating the Quadcopter, and he says that it is this high standard of customer service that really sets DMZ Aerial's Quadcopters apart from other companies and their crop scouting "drones."
The Fiene cousins have also made sure to offer reasonable prices, while some of their competitors are charging the same price as DMZ Aerial for products that are more flashy but much less efficient. Mitchell stated that they are very conscious of what kind of return their product will yield, understanding that retailers will not purchase something that may lose them money, and they make an effort to provide their retailer customers with statistics and data that can be used to help the end customer: The growers.
"Planting the correct hybrid in the correct soil is another important thing to do," says Mitchell. "Being able to do that and being able to provide that for our customers is kind of what we do in comparison to everybody else."