DRONE VOLT is launching its new fixed-wing unit, a light and compact UAV dedicated to precision agriculture and construction work, DV WING.
DRONE VOLT is a French drone manufacturer that provides professional solutions in a variety of services and pilot training. The company has specialized in the manufacturing, assembly, distribution and sales of professional drones since its creation in 2011. For example, an interesting solution is their Drone Spray Hornet which features a spray system used to destroy nests of Asian Hornets, an insect present over two-thirds of France.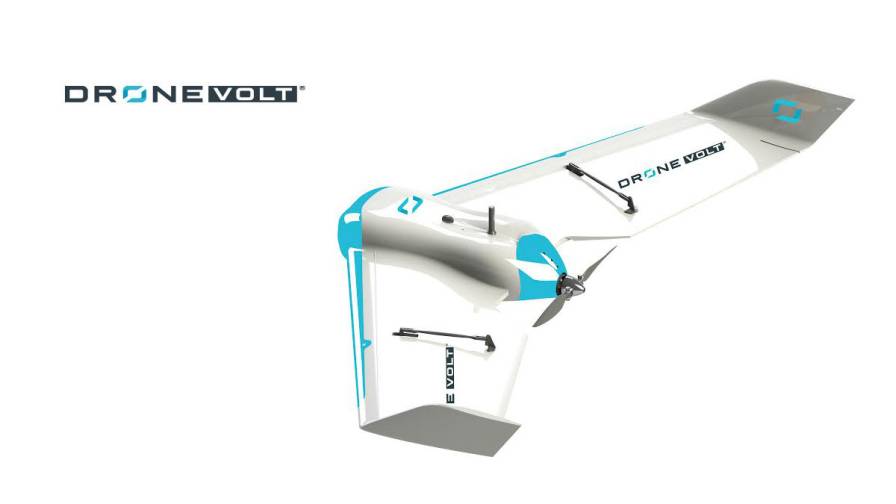 Now, DRONE VOLT is looking at precision agriculture and construction work as "the DRONE VOLT factory product range was missing a fixed wing model," said Chairman of DRONE VOLT, Dimitri Batsis. He also added that the DV WING supplements their offerings in what they consider to be a promising growth market.
Equipped with a 18.2 MP sensor camera, flying at a maximum of 50 km/h, and using algorithms to obtain aerial imagery and accurate data, DV WING can be used in, for example, photogrammetry, map analysis for farming areas and forests, and measurements for road construction. DV WING can also be flown at a range up to between 2 and 3 km.
Farmers can use the collected data to establish accurate diagnostics for the treatment of crops and the management of pesticide use. It can also be used by quarry and mining operators to measure volumes.
DV WING is launched by hand as it is very light (940g) and compact. It can fly autonomously for around 85 minutes and captures very high resolution images, capable of generating highly accurate ortho-photos.
The addition of "DV WING" enriches DRONE VOLT'S range on professional drones, but also the French Drone Market for precision agriculture and mapping, as it is estimated to reach around 50 million euros (~52 million dollars) by 2025, as per Global Management Consultancy, Oliver Wyman's projection.