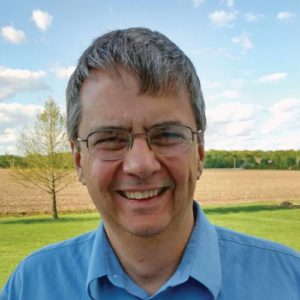 Don Bierman, Crop IMS
Don Bierman grew up on a small farm in southeastern Illinois. After graduating from the University of Illinois in 1981, he began his career at Wabash Valley Service Co., a GROWMARK owner and member. Over the next 33 years, Bierman held various positions including the manager of Wabash's information management unit as well serving as its plant food product manager. In 2005, Wabash Valley along with four other input supply cooperatives, formed Crop IMS, where since 2015 Bierman has served as its CEO.
Most recently, Bierman has been involved with the formation of the Ag Data Coalition (ADC) helping to bring about a new entity championing the rights of producers with respect to production ag data. Crop IMS is a founding member of ADC and supporter of the Growers Ag Data Cooperative (GADC), the first cooperative focused on the business of empowering producers with the ability to manage the storing and sharing of their data.
PA Pro: Precision agriculture can be a maddening industry to serve. What gets you up in the morning?
Bierman: "Relationships, in a word, is why we do what we do. Our customers, business partners and colleagues, and our employees constitute a network of connections that all rely on one another in various ways. Agriculture, as much as some would like it to change, is still a people business. Being useful, making a difference to others and creating value are all what drives ag today."
PA Pro: What makes you believe precision agriculture/agronomic consulting is a sustainable business?
Bierman: "I thought we took a vote and decided to quit using the term 'precision' anymore! That word doesn't mean what it used to mean decades ago. That said, I'm pretty sure every other industry has progressed, evolved, and continues to improve because it has become "more aware"; learned new things applicable to its efforts. Being a biologically based system as ag is, until the day comes everything that is knowable is known, I'm confident there will be a demand for people and companies who help others to learn and profit from these new knowledge sets. Learning to make better decisions won't become obsolete for a while, surely!"
PA Pro: What is the industry's biggest roadblock to greater technology adoption?
Bierman: "Producer profitability and the "FANG'ing" of ag. FANG, an acronym created by TheStreet's Jim Cramer, is representative of four of the best-performing tech stocks of the recent past — Facebook, Amazon, Netflix, and Google. With the historic returns to investors this group of companies has achieved, it's understandable why new investment is pushing this same model into ag. The upshot though of this is that producers cease becoming customers/patrons: they instead become 'users' or a source of raw material for these new enterprises and processes. Put simply, when others have more information about a producer's farm than the producer him or herself, that will be a bad day; bad for the producer and bad for those whose business is to bring value TO THE PRODUCER! It's no wonder then that producers are skeptical and hesitant to embrace at least some forms of technology. Greater transparency and the empowerment of producers to have, hold, and control their data are critical steps to address this concern."