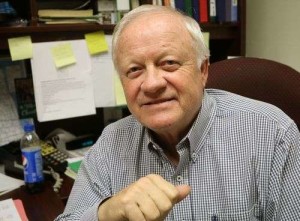 The 45th Northern Ag Expo, December 1 and 2 at the Fargodome in Fargo, ND, will be a showcase for precision agriculture education and marketing help for farmers navigating a period of difficult commodity pricing, reports Mikkel Pates, Forum News Service, on PrairieBizMag.com.
Gary Knutson, executive director of the North Dakota Agricultural Association, which hosts the Expo, says economics might change, but one thing remains the same — the Expo is one of the first opportunities after harvest to gather input and commiserate on what's ahead for the 2016 crop year.
The show features 200 exhibiting companies and typically draws 4,000 to 6,000 active dealers and farmers. This year, the show sold out "faster than normal," despite challenges.
The event kicks off with seminars, including a discussion on lawsuits involving the waters of the U.S. — rules being promulgated by the EPA.
Knutson, who has managed 25 of the shows since 1990, says this year's seminar series is an eclectic mix of topics, including seed application to tillage techniques.
Production seminars will cover marketing, fertilizer, and pest control.
The NDAA has 475 members, representing seed, crop protection, plant food and related equipment. "The seminars complement the trade show," he says.
Generally, seminar topics the first day will focus on soybeans and the second day on corn. The show this year will involve officials from the commodity councils to talk about new product uses and market opportunities.